UniTrain in wiring and installation technology
UniTrain in wiring and installation technology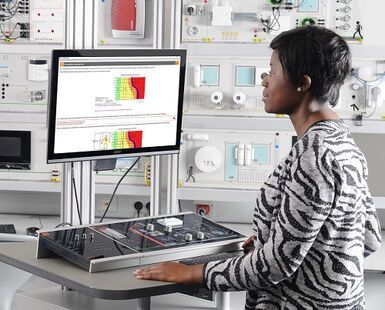 UniTrain in wiring and installation technology
The area of wiring and installation technology is not limited only to vocations related to electronics specialists for energy and building management systems. Select topics are also taught in related vocational subjects as well as in vocations with only modest electrical engineering content. As such, a topic like safety measures plays a very important role in the areas of heating, air-conditioning and sanitary technology. But basic knowledge also has to be learned in special vocational training programs like ones targeting "electrical technicians for special assignments".
For that reason the UniTrain training system contains, in addition to basic topics such as DC circuits, AC circuits and three-phase circuits, also topics like network systems and safety measures in power engineering as well as process control technology with contactor circuitry.
UniTrain is a multimedia e-learning system with integrated, mobile electronics lab for general education and advanced training in electrical engineering and electronics.