Smart Energy Buildings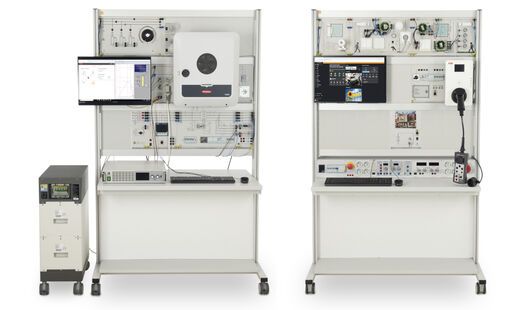 Experience the future of effective training with our revolutionary Smart Energy Buildings training system!
Imagine your home not only producing its own clean electricity but also recharging your electric vehicle with eco-friendly power. By integrating PV systems on the roof of your smart building, you can significantly reduce your energy costs and help protect our environment at the same time. The PV system converts sunlight to electricity that is used right there in your building. Intelligent systems monitor the energy consumption and transfer the excess power to the wallbox to recharge your electric vehicle. Integrating PV and wallbox into your smart building also gives you a great deal of flexibility and control. You can use the smart home controller to monitor the energy flow, manage the charging process, and even feed surplus PV electricity into the public power grid.
How that works and how to set up the system – that's what our "Smart Home Buildings" training system shows you.
Learn how the building's photovoltaic system, battery storage and electric car charging station interact to overcome limited energy supply by optimising its own regenerative solar energy demand. A smart wallbox is used to charge the electric car from the building's own photovoltaic system or inexpensively from the energy grid via the smart, digital bi-directional meter. A grid isolation device enables the use of hybrid photovoltaic inverters and battery storage to continue supplying electricity during an energy grid outage. The core element of any "smart building" of this type is a smart, central controller. The training system makes it possible to set up and configure a practice-oriented "smart building" comprising a hybrid photovoltaic system with battery storage and grid isolation device, wallbox, digital bi-directional meter and smart home control system.
Learning objectives:
Integration of PV system, battery storage, wallbox and digital meter in a smart home control system

Monitoring of energy flows in the smart home

Optimisation of energy consumption