EDC1 High-voltage direct current transmission (HVDC)
EDC1 High-voltage direct current transmission (HVDC)
EDC1 High-voltage direct current transmission (HVDC)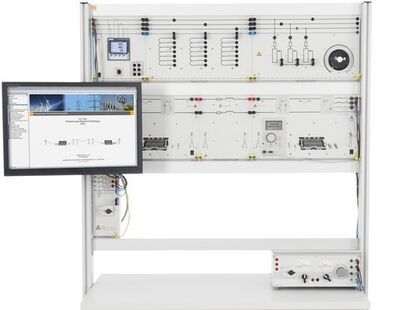 Sustainable energy transmission for efficient and reliable grids in the future
High-voltage DC transmission is a method for transmitting electrical energy by means of high DC voltage.
This technique is intended for the long-distance bulk transmission of energy via DC, since above certain distances HVDC exhibits a lower degree of loss overall than is the case for conventional transmission using three-phase AC power, in spite of the increased converter losses.
High-voltage DC transmission is frequently used for energy transmission over comparatively short distances as well if the electrical transmission line has been designed with a high degree of capacitance. This is the case with maritime cabling but also buried terrestrial lines.
One other application is for an intermediate coupling link between networks, which allows for direct exchange of electrical energy between three-phase power networks.
Training contents:
Control of intermediate circuit voltage
Provision of reactive power but with no effect on the flow of active power (STATCOM)
Manual and automatic synchronisation with the electric power grid
Control of HVDC reactive power with modification to the flow power
Individual control of reactive power for both converter stations
Observation of losses for various lengths of HVDC lines
Provision of a power network with passive consumers by means of HVDC

(black start)

Coupling of wind turbines

Investigation of fault ride-through (FRT) behaviour in HVDC systems