IMU Industrial Mechatronic Unit - industry for the laboratory
IMU Industrial Mechatronic Unit - industry for the laboratory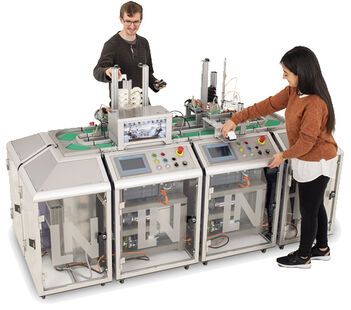 IMU Industrial Mechatronic Unit - industry for the laboratory
The Industrial Mechatronic Unit can be used to simulate industrial automated production systems of varying complexity. It is a system that is perfectly suited for further expansion due to its modular design. This means that the system can be adapted to the learner's previous knowledge and grow with it.
The Industrial Unit is characterized by the intelligent connection of the transport system with a control system in the control cabinet. Through the additional touch panel and the operating elements, any controls and sequences can be programmed.
Through the use of industrial components, the trainee finds his way more quickly in the job after his training
Multi-level training on only one system is possible.

Basic understanding
Advanced learners learn directly on the PLC of the transport system
In advanced training, the networking of several transport systems with processing stations is carried out

Small projects are carried out with IMS individual components, especially with the Mechatronic Unit or the individual stations
Learners grasp the functional sequences and the signal state dependencies more quickly due to the possibility of being able to read the I/O signal states directly on the system
More complex tasks can be handled with the IMS stations. Here, additional functional interrelationships result from the combination of individual IMS components
Due to the easy separability of the systems, individual teaching designs are no problem
Complete flexible production plants with circulation system are built up from connected IMS stations. The resulting multi-layered projects require the profound knowledge of the IMS stations.