ECM 1.1 -3 Predictive maintenance and condition monitoring by means of vibration analysis 300W
ECM 1.1 -3 Predictive maintenance and condition monitoring by means of vibration analysis 300W
ECM 1.1 -3 Predictive maintenance and condition monitoring by means of vibration analysis 300W
Learning objectives:
Recording of machine condition in real time using vibration analysis

Recording of vibration data and analysis of frequency spectrum (FFT)

Investigation of various fault patterns:

Analysis of alignment errors

Analysis of imbalance in the drive system

Analysis of bearing damage

Analysis of gearbox damage

Classification of fault patterns and parameterization of warning and alarm levels in condition monitoring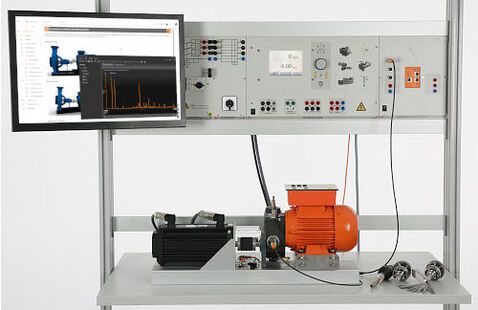 Condition monitoring supplies information about various drive parameters in real time. This provides insight into the current condition of the drive or machine. In so doing, condition monitoring enables precise fault identification, preventive action, maintenance interval optimisation and downtime reduction, and renders production operations more reliable. Predictive maintenance and condition monitoring by means of vibration analysis 300W.
Learning objectives:
Recording of machine condition in real time using vibration analysis

Recording of vibration data and analysis of frequency spectrum (FFT)

Investigation of various fault patterns:

Analysis of alignment errors

Analysis of imbalance in the drive system

Analysis of bearing damage

Analysis of gearbox damage

Classification of fault patterns and parameterization of warning and alarm levels in condition monitoring