Modular engine management "GDI with demand regulated fuel pump"
Modular engine management "GDI with demand regulated fuel pump"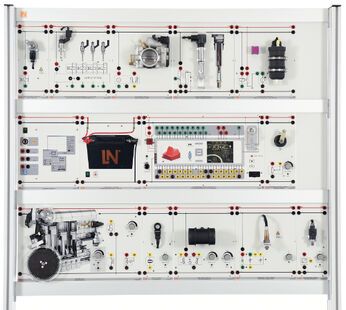 Modular engine management "GDI with demand regulated fuel pump"
(Equipment set: MMM9)
This engine management system provides trainees with all the necessary components (engine control unit, sensors, actuators, power supply) for modular assembly and configuration. This means that the complexity of the system can be adapted to need and an in-depth understanding can be gained of communication between individual sensors or actuators and the engine control unit, considering input, processing and output as a basic principle.
To ensure the perfect symbiosis between theory and practice, all the modules have genuine, fully functioning components wherever possible. These are then complemented with realistic drawings. To further enhance the practical aspect and make it true to life, each module has a simulation mode and an authentic mode, such that it is possible to measure the actual air-flow by mass using the authentic flow meter. In addition, the response of the entire system can be analysed when plugs and connecting leads are removed. The on-board diagnostic (OBD) connector on the control unit allows previously activated simulated faults to be read out.
The safety measurement sockets and the "all-in-one" measuring apparatus offer students multiple options for carrying out measurements on the training system. The accompanying course software provides not only the extensive interactive and theoretical content but also the necessary virtual instruments to convert your own Windows device into a powerful, multi-functional measurement platform (voltmeters, oscilloscope) with the simultaneous capability to document the results of measurements
To meet the requirements for such training systems, the individual modules are provided with short-circuit protection so that they have the suitable resilience to faulty operation.