HPC Continuous Valve Technology - Proportional Hydraulics
HPC Continuous Valve Technology - Proportional Hydraulics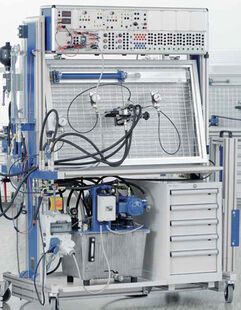 HPC Continuous Valve Technology - Proportional Hydraulics
Technical know-how and solutions expertise in industrial applications flow seamlessly into the modular training systems of Lucas-Nülle. Comprising hardware as well as interactive multimedia courses (ILA), they provide practical hands-on knowledge. Via the USB interface, the hardware can be directly controlled from the multimedia course, the interactive schematic diagram editor can be opened, and the measurement values can be recorded at all times. The training systems are perfectly matched to the qualification levels of industry and education institutions.
Through logically structured, practical exercises, the trainee should:
Understand physical laws for proportional valves such as pressure difference, opening area and flow rate

get to know and apply the legal requirements and safety regulations, apply the most important symbols of proportional hydraulics, read circuit diagrams,

get to know and understand the meaning and mode of operation of setpoint specification, ramp function and signal sequences practice the adjustment, commissioning and optimization of an electrohydraulic system,

Determine characteristic values ​​and derive characteristics from them.