Pneumatics with UniTrain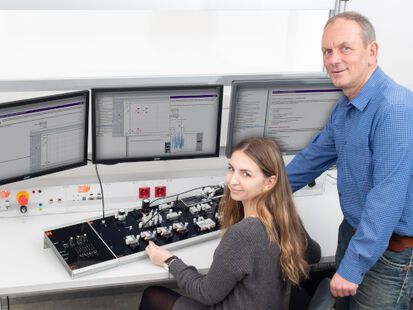 Pneumatics with UniTrain
The course teaches the basic knowledge of pneumatics. In all practice-related project tasks, core and specialist qualifications are imparted in an integrated manner, including independent planning, execution and control.
Basic training in a wide range of vocational fields is intended to impart skills and qualifications in a practical way. In order to carry out a qualified professional activity, the pupils should in particular learn how to plan, carry out and control independently as well as how to act in the overall context of the company.
Learning content

Occupation-specific specialist qualifications, e.g. the manufacture, assembly and disassembly of assemblies and systems, should be taught integrated with core qualifications, e.g. the planning and organisation of work and the evaluation of work results. Business processes and quality assurance systems in the area of application are, among other things, learning contents of the occupation-specific technical qualification.
In detail:
Understanding physical laws of pneumatics such as pressure difference and compressibility.

get to know and take into account the legal requirements and safety regulations

learn and use the most important symbols of pneumatics

understand the function of basic pneumatic circuits

recognize the typical behavior of pneumatic components in different operating situations

Determine characteristic values

The objectives listed are aimed at developing the capacity to act. Through the willingness and ability to solve tasks and problems in a goal-oriented, appropriate, methodically guided and independent manner on the basis of professional knowledge and ability, and to assess the result, the student develops his professional competence.
UniTrain multimedia courses on fluid power provide knowledge and skills necessary for understanding, controlling, operating and maintaining fluid power systems. With the aid of animations and numerous practical experiments using realistic systems, the various courses work through the basics, principles and properties of components in fluid power systems.
Supplementary virtual instruments in LabSoft for the courses "Pneumatics / Electropneumatics" and "Hydraulics / Electrohydraulics"
Function block editor
Pressure gauge
Path-Time diagram