"Additive manufacturing" - the reliable 3D printer especially for training and further education
"Additive manufacturing" - the reliable 3D printer especially for training and further education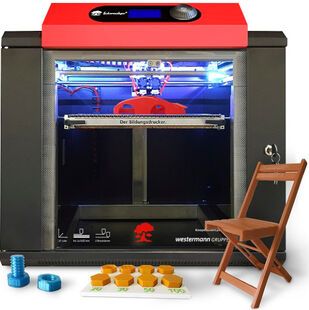 "Additive manufacturing" - the reliable 3D printer especially for training and further education
In cooperation with fabmaker GmbH, Lucas-Nülle offers an innovative, modular teaching-learning concept with didactic materials for the use of 3D printing in teaching. The entire educational concept is based on curricular guidelines and promotes the six areas of competence listed in the resolution of the Conference of Education Ministers on "Education in the Digital World".
Together with fabmaker, Lucas-Nülle wants to make learners fit for industry 4.0.
Digitisation is on the advance. Lucas-Nülle's contribution: a reliable 3D printer with a didactic concept. 3D printing technology is already being used in industry and other sectors. It enables completely new design and product functions in architecture, mechanical engineering, construction, automotive and industrial design or in aerospace. The diverse potential of this technology remains largely untapped due to a lack of experts. Tomorrow's skilled workers will therefore have to work today with additive manufacturing and the associated media and
technical competencies. However, these training programmes are currently lacking. Lucas-Nülle has therefore set itself the task of changing the learning world of tomorrow today through the educational printer and the teaching and learning concept fabucation. Industry 4.0 needs skilled workers with a good
Training 4.0 and cannot be based solely on new technologies. In an international comparison, Germany's education landscape has a lot of catching up to do in the area of digital education and the expansion of the digital infrastructure. For well-trained specialists, however, it is essential to be effectively prepared for tomorrow's industry with a high degree of practical relevance. This is the basic prerequisite if Germany wants to maintain its attractiveness as a business and science location in the future.