Fundamentals of electronics/electrical engineering in motor vehicles (EloTrain 4mm)
Fundamentals of electronics/electrical engineering in motor vehicles (EloTrain 4mm)
Fundamentals of electronics/electrical engineering in motor vehicles (EloTrain 4mm)
Equipment set ATF4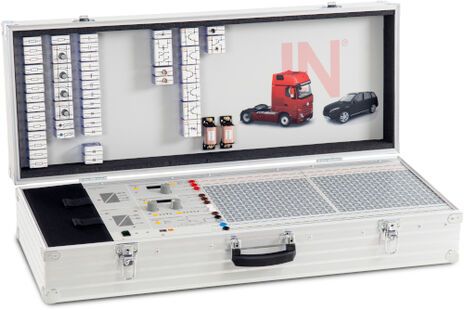 This equipment set provides the perfect introduction to automotive technology since it forms the cornerstone for essential understanding of electrical engineering and electronics as used in motor vehicles. Due to the immense degree of networking and the high density of control units which can be found in any modern vehicle, an extreme level of "electronification" has now been reached in consequence. Never before has it been such a vital part of mechanics' training to thoroughly grasp these basics.
The EloTrain training system approaches this very aspect and offers trainees to build on and deepen not only their theoretical knowledge but also their practical skills in this area. An interactive course, which can alternatively be supplied in the form of a handbook, guides trainees through the theory and practical experiments. Starting with fundamental topics, such as Ohm's law, measurement of electrical variables and basic types of circuit, the course also details all the most important electrical components (capacitors, transistors, coils, etc.). The course is rounded off with more advanced experiments involving a CAN bus.
Time-efficient use of the set is assured by the compact design, where everything is kept in a handy case. It contains all the necessary components and therefore makes it possible to set up the training system in a matter of minutes.
Learning content
Atoms, positive and negative charge

Metal conductors

Electrical voltage and generation of voltage

Measurement of voltage

Electric current, measurement of current and types of current

Resistance and measurement of resistance

Circuit diagram symbols

Circuit diagrams

Conversion factors

Ohm's law

Resistors in series and parallel circuits

Conductance

Mixed circuits
Basic equipment set, consisting of: