Polytechnique University Moscow
Modern technology and fun developing at Moscow Polytechnic University
Moscow Polytechnic University is one of Russia's leading technical universities. We spoke to Iturralde Baquero Pablo Emilio,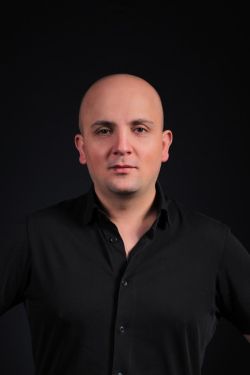 Dean of the Faculty of Automotive Engineering, about modern learning at the university.
Mr Emilio, you head the Department of Automotive Engineering. What is the idea and mission of your faculty?
We train engineers at the Faculty of Transport in the areas of:
Applied mathematics and computer science
Power Engineering
Applied Mechanics
Operation of transport technological machines
Land transport and technological systems
Our students work on real projects from the very first semester. Faculty laboratories are equipped with the most modern and up-to-date didactic systems using interactive educational technologies and up-to-date disciplines.They also provide close ties with the automotive industry and employers. We organize internships and workplaces in major Russian and foreign companies, which gives students an even higher level of practical relevance. Despite the high level of digitalization of learning, our experienced teachers are the most relevant component of success.
What does learning look like? Is there a central concept of learning?
The core of the educational process is the discipline of 'Project Activities'. During training, students go through several stages - from a new idea, design and engineering, to production and further operation. Our students undertake project activities within the walls of the Engineering Development Centre at Moscow Polytechnic University. One example: they produce their own racing prototypes that participate in and win competitions - like our electric motorcycles. Two years in a row, a student-made electric bike has set a world speed record at the Baikal Mile Speed Festival! While in 2019 the speed was 145 km/h, in 2020 we broke our own record with the new MIG R electric motorcycle, increasing the top speed to 210.5 km/h.
How do programmes respond to digitalisation in learning?
Students have been working on real projects since their first year, using interactive educational technologies and modern knowledge-intensive equipment. Many of the students have been taking part in professional competitions since their first year, such as the Baikal Mile speed festival and the 4-hour Russian Endurance Challenge endurance race.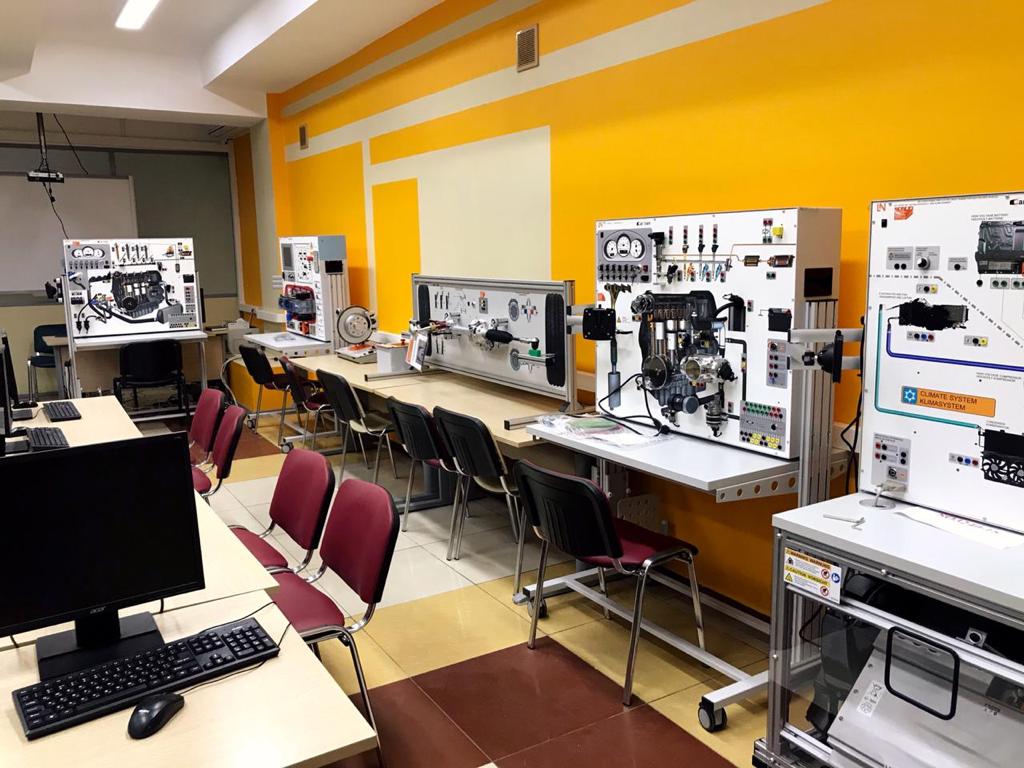 Why did you choose LN equipment?
Moscow Polytechnic has been successfully cooperating with LN in other areas for a long time now. Despite the fact that the company is foreign, we have constant contacts. There is no language barrier. Well, and since LN occupies a leading place in the world of didactics in the field of motor vehicles, our choice was logical.
What do teachers say about the practice-oriented approach?
Our ideas about the learning process coincide exactly with Lucas-Nülle's concept. The combination of theory and practice, right from the start of the training. What I do myself is far more effective and far more exciting than what I learn from watching others do it.
Are there any learning systems or topics that seem particularly interesting to students?
The guys love anything new. Not without a hype, so to speak. Hybrid and electric cars, alternative fuels. These topics are now the most discussed and relevant for the whole world.
Was LN's digital content and software an argument for choosing the equipment?
Without a doubt. Our teachers have a demanding role. However, the work becomes even more effective when students use the LabSoft software to learn a topic independently, either individually or in small groups. The tutor can then devote more time to each student. Let's call it the individualization of the learning process. A radical departure from the routine, frontal method of learning.
Outlook: What are your expectations and plans for the development of the car programme?
Logically, the traditional car still plays a major role in Russia and will remain so. However, a clean environment in megacities requires the development of alternative means of transportation. In Moscow, there are more and more electric buses. The first hydrogen-powered buses are also on the roads. Another important aspect is safe driving and various driver assistance systems. In particular, autonomous driving and the integration of the vehicle into the digital city system. And here, too, Moscow Polytechnic is at the forefront. And especially with the help of Lucas-Nülle.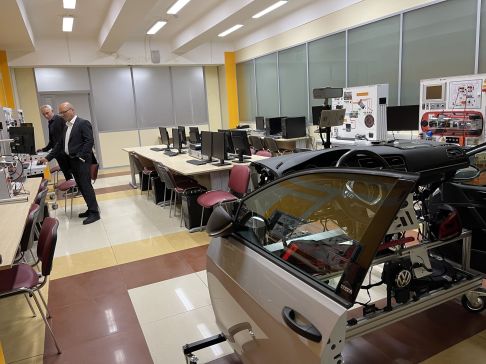 Key facts. How many trainees, trainings and other interesting figures.
An der Fakultät sind derzeit 1.985 Studierende eingeschrieben, von denen 269 im Jahr 2022 ihren Abschluss machen werden. Die Fakultät hat 2 Weltrekorde für Geschwindigkeit auf einem Elektromotorrad gewonnen. 10 Elektromotorräder und 11 Sportprototypen wurden im Engineering Development Centre gebaut. Mehr als 100 Fachleute aus dem Bereich der Renntechnik wurden ausgebildet.