When the centre of gravity is at the top
The position and angle controlled system
An upside-down pendulum: the inverted pendulum is a classic of control technology. Swinging up and balancing a pendulum rod by purely horizontal accelerations is a particular challenge that requires optimized closed-loop control. At the same time, the pendulum clearly demonstrates for all to see whether this automatic control is successful – providing many ideal starting points for teaching.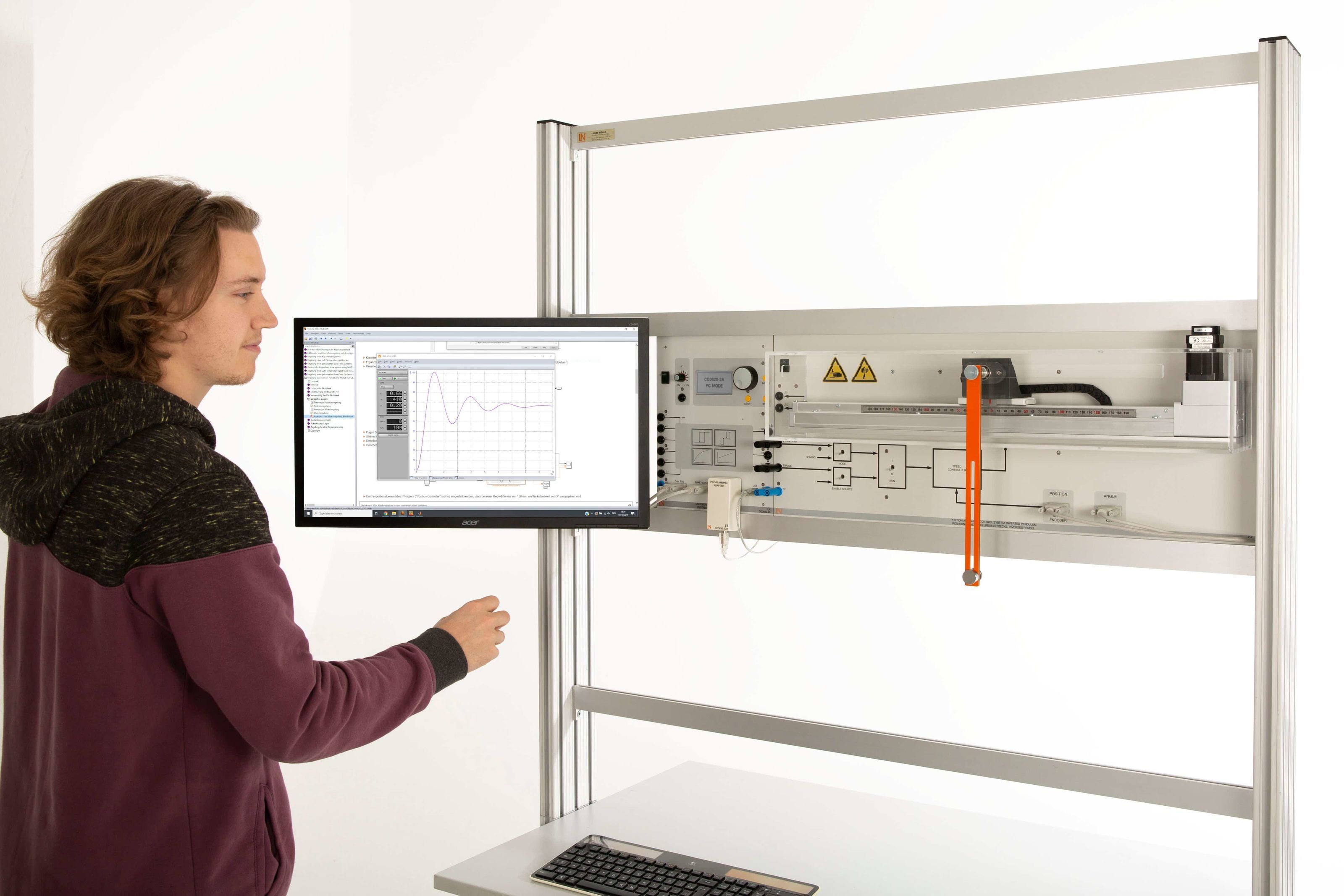 Versatile new training system
With its "Position and angle controlled system, inverted pendulum" training system, Lucas-Nülle will in future illuminate various applied control technology topics in two digital courses. "The Basic ILA course will explain fundamental aspects from single-loop position and angle control to cascaded multi-variable control," Shalbus Bukarov, Product Manager in Control Technology, explains, adding: "Alternatively, a MATLAB-Simulink-based ILA course allows trainees to develop user-defined and freely programmable control algorithms. This shows the versatility of the new training system."
Stable sliding
A linear axis with a belt drive and robust recirculating ball bearing guide facilitates stable and low-wear sliding of the carriage. A traversing range of up to 400 mm and acceleration of up to 10 m/s² ensure excellent conditions for making the swinging up and balancing process possible with the aid of a primary control unit.
Optical sensors
Both the travel range and the pendulum rod's centre of gravity are adjustable, making the application more variable. Projects relating to various applications, such as the Segway PT or the container bridge, represent practical application scenarios. Importantly, the system also features optical sensors, automatic integrated speed and current control and a powerful 100W hybrid stepper motor.
                              

"The training system provides
a particularly clear picture of control technology.
It offers application possibilities
and plenty of teaching material
for both trainees and students."

Product Manager Shalbus Bukarov