Air-conditioning experts in Budapest
Lucas-Nülle at EuroSkills 2018
After three days of competition, the new European champions from among the skilled trainees taking part in EuroSkills 2018 were announced. The contest, which was held in Budapest at the end of September, saw the 530 best trainees from 27 European countries compete with each other in 20 disciplines covering trades, industry and services. One of the ways in which the HVAC / refrigeration and air-conditioning specialists had to prove their skills was on Lucas-Nülle's split air-conditioning training system.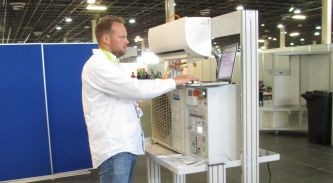 While the trainees were busy working on the training system trying to gain precious points, Jan Schneider, "Technical Expert" at Lucas-Nülle, also repeatedly received positive feedback on the system from the judges. "The fault simulator on our split air-conditioning training system is a new feature and the first of its kind in the HVAC / refrigeration and air-conditioning training market," Schneider explains.
Interactive software allows specific faults to be simulated in the system. The task for the budding air-conditioning technicians at EuroSkills was to find and remedy these faults. And as in any competition, the better you do, the more points you gain.
The competition was accompanied by an exhibition, where Marcus Klemt, Area Sales Manager for the region, showcased Lucas-Nülle's broad training portfolio. At the WorldSkills Germany e.V. stand, visitors also had the opportunity to try out Lucas-Nülle's e-learning solution, VOCANTO, and dip into a number of VR learning units.
The next highlight for trainees is the WorldSkills 2019 competition in the Russian city of Kazan, where, of course, Lucas-Nülle will once again be represented with its full range of vocational training expertise.