Easy access to electric vehicles in training
Practical work on real electric vehicles, however can only be the last stage of training.
This is recognized by automotive trainers and lecturers around the world. While training on real vehicles with internal combustion engines can, in part, be done safely on the vehicle itself, the situation with electric vehicles is completely different. After all, the consequences of using high-voltage technology incorrectly can actually, and very quickly, prove dangerous to life.
The upshot is clear:
instructors, teachers, trainers and lecturers have to break with the practice of working on real vehicles. They should instead use specially developed training vehicles and, in particular, teach high-voltage content with the aid of training systems. The trainees and students are only ready to work on real vehicles once they have demonstrated the necessary level of competence.
Lucas-Nülle has developed an effective and practically relevant concept for precisely this process - from the basics to full competence. This gives teachers a way around the dangers of high voltage and enables them to give their trainees and students access to electric vehicles in a very simple way. Effective training in hybrid and electric vehicles can thus be implemented in next to no time.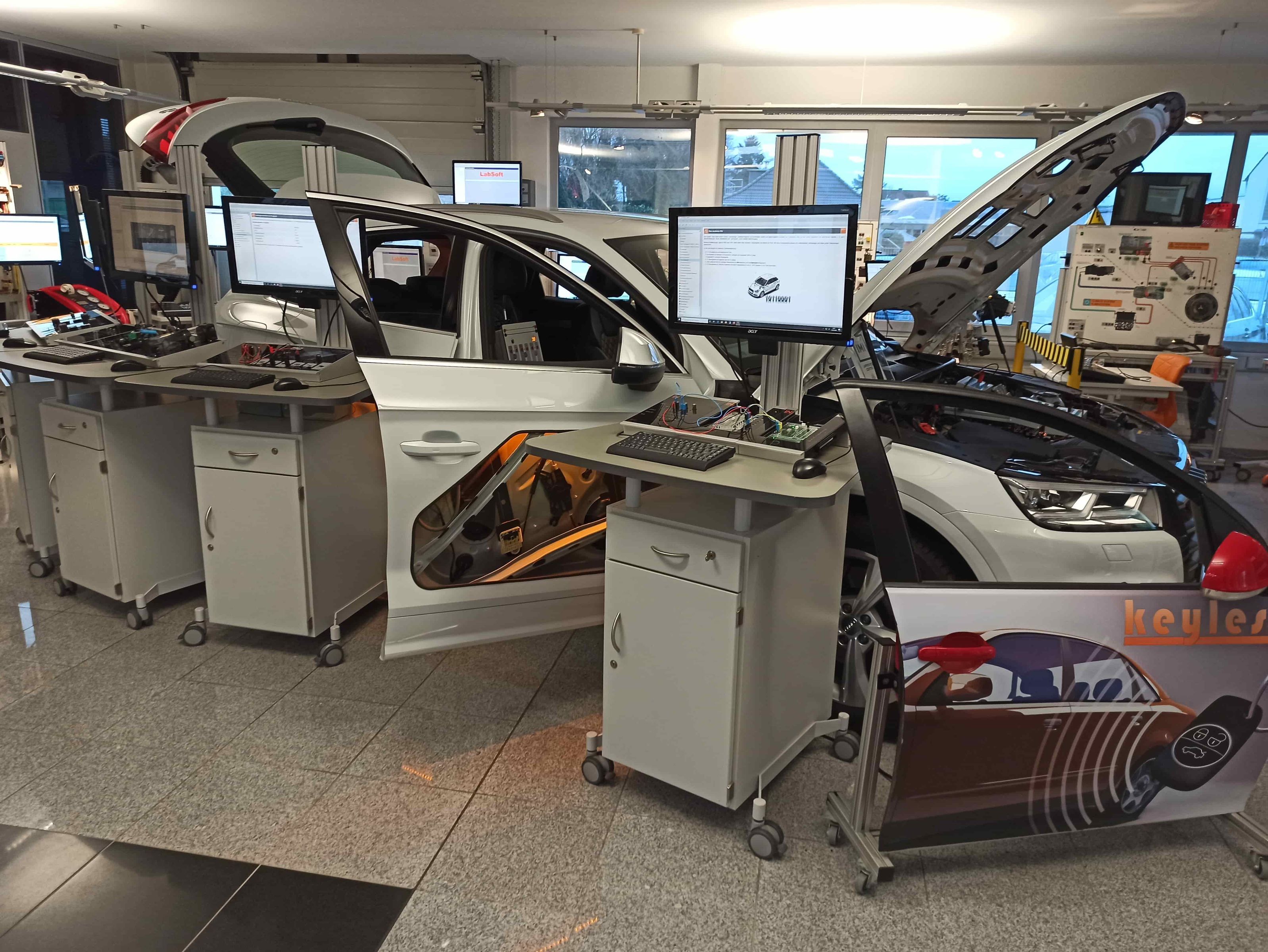 From the basics to hands-on working with the CarTrain "Hybrid and Electric Vehicles" system
The perfect synergy between practical relevance, high safety levels and multimedia-based theory in combination with diagnostic esercises. The CarTrain Hybrid and Electric Vehicles system lets trainees and students work directly on a real HV system that does not require any previous training thanks to its special protective system. This enables trainers, teachers and lecturers to create a safe working environment, allowing students to focus on their work.
Another outstanding advantage is that this system combines five different drive types. Where training centres normally require five different high-voltage vehicles, this system now covers the requirement on its own. A serial hybrid system can be changed to a parallel hybrid system, or an all-electric vehicle to a fuel cell drive, in a flash.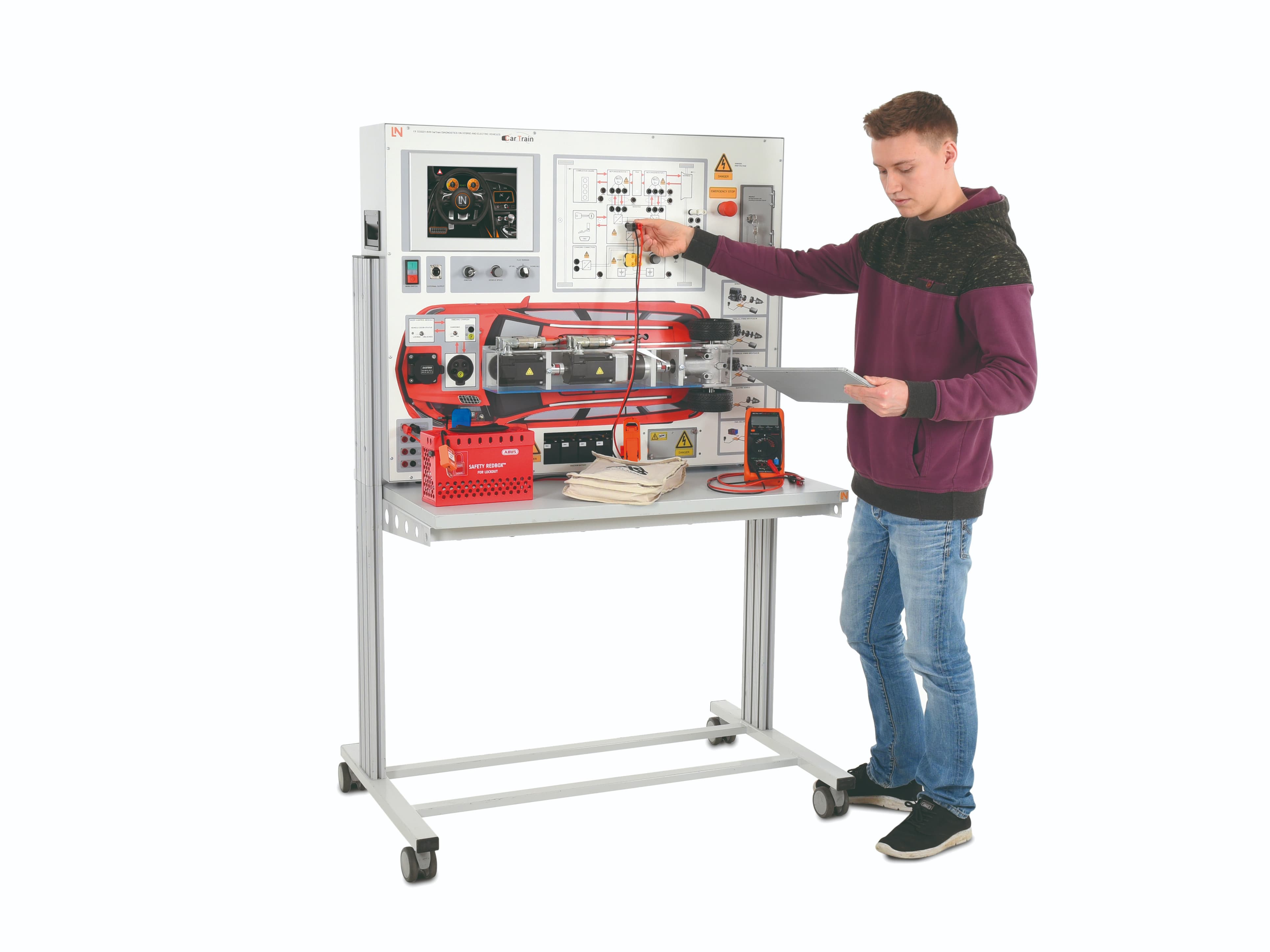 The corresponding e-learning system allows teachers to provide all the important theoretical content. For each chapter, the trainees and students work through numerous practical assignments and knowledge questions. The integrated diagnostic system and the specially chosen fault scenarios help develop the required level of competence to work on real vehicles. The CarTrain Hybrid and Electric Vehicles system offers the necessary level of safety when trainees and students are carrying out various diagnostic strategies and measurements on the HV system with real HV voltage.
Trainees and students must also be prepared for working directly in the HV battery system.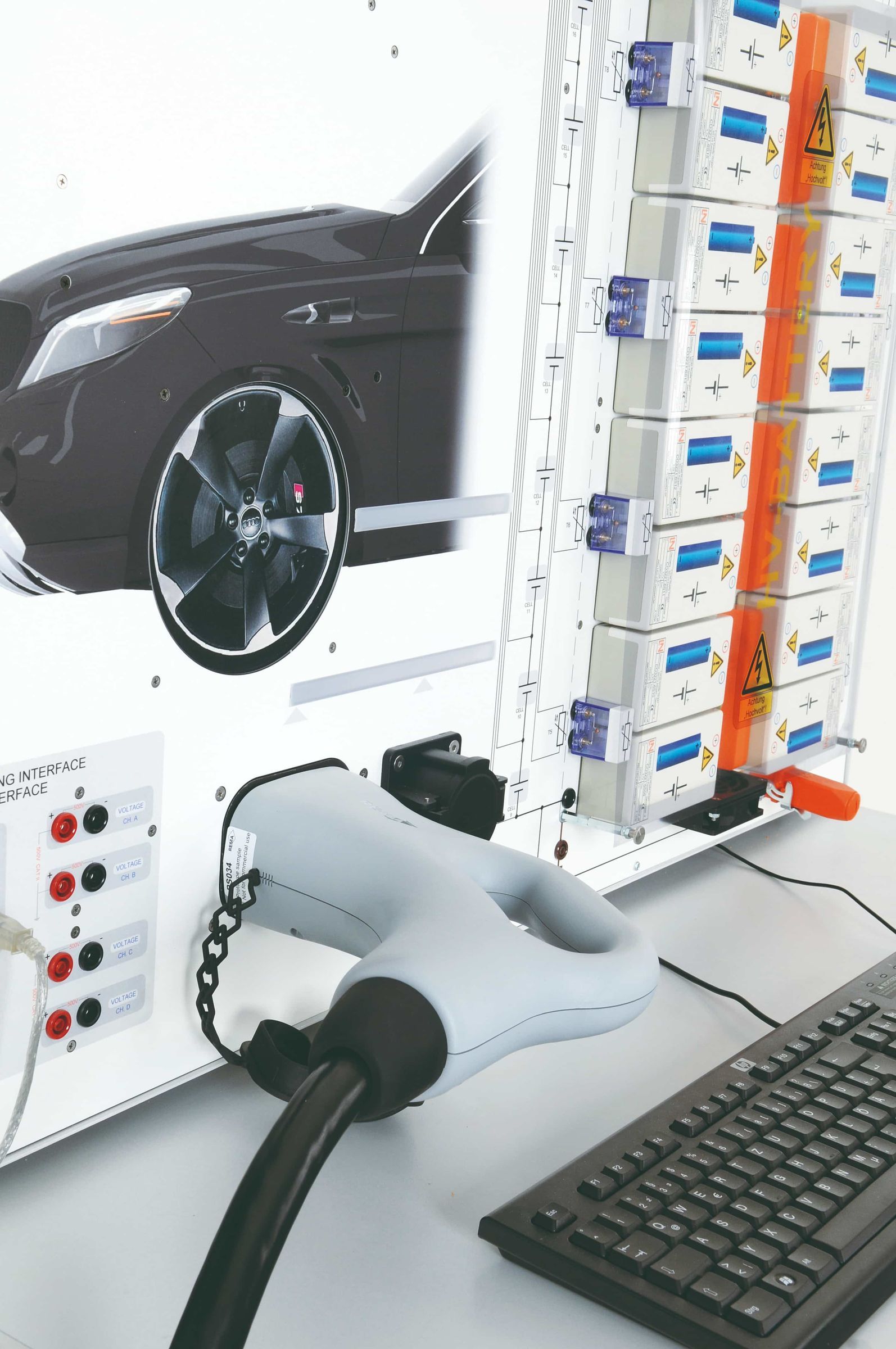 The subject of safety becomes even more tricky when it comes to providing system and high-voltage technicians with the skills for working on - or in - a high-voltage battery. However, the CarTrain "Diagnosis and Maintenance of a High Voltage Battery" system enables trainees and students to attain these learning objectives in a safe and practice-oriented way as well. The system focuses on the digitally interconnected CAN-bus battery management system in the traction battery with the corresponding components, and specifically provides training in measuring and operational testing of live HV components.
The trainees and students carry out practical and live exercises involving battery cell measurements and diagnostics. The HV battery is designed in such a way that it can be taken apart to replace individual cells and sensors. This allows learners to tackle the HV battery in a practical and hands-on manner.
Numerous basic courses on the fundamentals of electric drives
Without an electric motor, even the best high-voltage system is useless. Lucas-Nülle offers the right concept here, too, allowing work to be carried out on this key component during lessons. Our eight-piece set for taking electric drive motor measurements features various modules for electric motor diagnostics. Numerous measuring and switching exercises facilitate familiarization with the system and attainment of the necessary level of competence.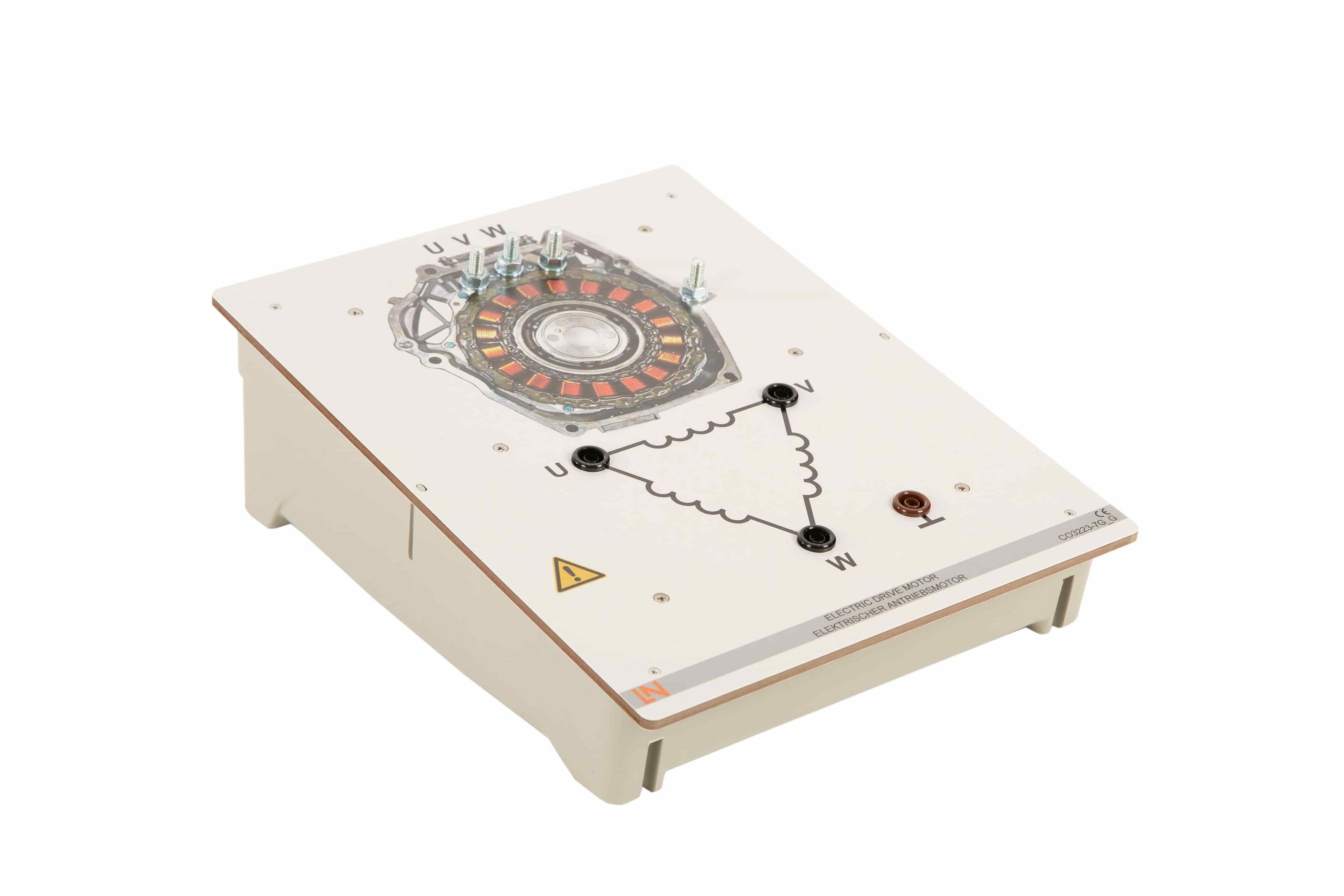 Our basic electrical courses on DC/AC conversion or DC/DC up- and down-conversion provide a view, as it were, inside the electrical systems. Follow-on basic courses also allow trainees to familiarize themselves closely with the battery disconnect unit, the 48-volt system, the interlock (pilot line) or the hybrid drive by carrying out measuring exercises. Further modules deal specifically with fuel cells and photovoltaics. Then there is also a UniTrain course in how to work safely on a high-voltage system. Trainees doing this course learn to assess the first potential hazards of high-voltage technology.
Finally, for electric drives too, the digitally intergrated training vehicles represent the last stage of Lucas-Nülle's practice-oriented approach. They allow trainers, teachers and lecturers to demonstrate, in a real vehicle setting, the topics that were covered safely in the training system.