Climate Monitoring via IoT
The CO2 light lets you impart up-to-the-minute knowledge
Bad air in classrooms has not just become a problem since the outbreak of the coronavirus pandemic. Until now, shock ventilation seemed to be the method of choice here. This concept has been studied by scientists at the Institute of Fluid Mechanics and Aerodynamics at the Universität der Bundeswehr München (Armed Forces University in Munich). The results of this research show that the necessary air exchange can only be achieved in such a brief period of time if there is a strong wind or a significant temperature difference.

Current ventilation concepts therefore focus on technical tools that are capable of effectively controlling and lowering the aerosol load. Besides highly efficient air filtration systems, it is primarily CO2 lights that form the cornerstone of these concepts. The background here is a series of recent studies which suggest that the risk of infection via the air in a room is significantly reduced if the CO2 concentration is kept below 1000ppm (parts per million). CO2 provides a measure of the aerosols in the room.

This should be of particular interest to anyone who wants to kindle learners' enthusiasm for technology. It offers teachers and trainers an excellent opportunity to combine the necessary with the useful. Why not develop the CO2 light in the classroom and use it as an ideal hook to hang other topics on such as the underlying measurement technology, wireless communication or the Internet of Things (IoT)?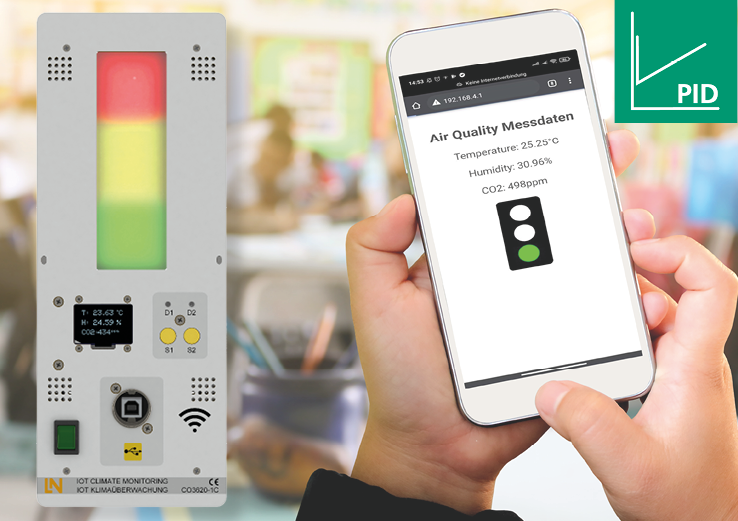 Lucas-Nülle now offers a training system specifically designed for this purpose. "IoT Climate Monitoring" allows students to develop a CO2 light independently. They can use the built-in sensors to record the CO2 content as well as the temperature and humidity of the air in a room. The system also allows them to learn how to program a controller with the graphical programming language Ardublock and how to process the measured data. 
Guided by an e-learning system, the students and trainees activate an LED strip based on the measured data, thereby causing the strip to indicate a clear colour-coded quality rating of the air in the room, similar to a traffic light. There is also an OLED display to present the readings. The built-in WLAN module facilitates wireless communication between two climate monitoring devices. This allows you to use the readings from different measuring points to assess the air in the room. Finally, the multimedia course facilitates the step-by-step creation of an IoT application.

With an Internet connection, students can now access the monitoring data from the HomeLab as well. However, this handy device can also be easily transported, making it absolutely suitable for home schooling. Moreover, programming with Ardublock is possible remotely too, provided the students have access to their school computer.

And by the way, this CO2 light of course also acts as a true signal of healthy air in your learning spaces at all times.