Shining labs in the middle of metallic dusty smelter
Aurubis AG opened two new training workshops last year. Trainees at the Group's headquarters in Hamburg and its recycling centre in Lünen now undergo training in electronics and pneumatics on innovative training systems.
Haptic impressions play an important role in training. "I always needed to be able to grasp things in a tactile way in order to really understand them," says Stefan Schmoldt, recalling his own training. "I see exactly the same thing with our trainees. If someone can answer a question using real-life examples, then I know they've got it." Schmoldt is a trainer at Aurubis AG. He is responsible for training the electronics technicians at the headquarters of the world's leading copper producer and recycler.
About 300 kilometres from Hamburg, Cederic Grube tells a very similar story. He is also an Aurubis AG trainer, and his responsibility is to train the mechatronics technicians at the recycling centre in the Westphalian town of Lünen. "Good haptics greatly facilitate working with teaching materials. If I can work quickly and easily with my material, it increases motivation, perseverance and ultimately satisfaction and success as well."
New capacity intended to secure a supply of skilled young workers for the company
The trainers in Lünen and Hamburg are delighted with the brand-new training workshops that have been built at both sites. The innovation and training centre in Hamburg alone has seen the listed company make an investment of over 18 million euros. The new facilities are intended to gradually facilitate a near doubling of the number of training places from 190 to 300. Lünen will increase its capacity from 40 to 60 trainees. The company's aim is to increasingly meet its growing need for skilled employees through in-house training.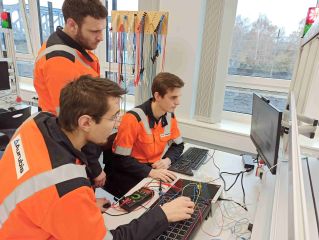 "The new premises are just one component, with another being the tools and training systems we use in the area of science and technology in particular," Schmoldt explains. Aurubis AG has invested here too, choosing systems supplied by Lucas-Nülle GmbH. Besides basic courses covering various aspects of electrical engineering, both sites now have pneumatics training systems that facilitate haptic learning in a multimedia environment.
Guided training: Advantages of learning content and software
Hamburg-based training supervisors Stefan Schmoldt and Nils Gerstenkorn see this multimedia aspect as offering an important advantage. All the training equipment supplied by Lucas-Nülle comes with digital learning content as standard. "Guided training provides scope for me to give intensive support to individual trainees," says Schmoldt, explaining the added value. In the morning, when people are most receptive, he starts by going through the theory. In the afternoon, the trainees then work on the training systems independently. "Any aspects that remained unclear in the morning become clear in the course of these exercises. That allows me to give my time and attention to each individual in a targeted way."
The software used for this - the LabSoft Classroom Manager - will also enable the trainers in Hamburg and Lünen to keep track of learning success digitally in future. Time will tell exactly how these features will be used in day-to-day training. Overall, Aurubis AG is pressing ahead with digitalization in training. One of the things the trainees are involved in, including from their training workshop, is working on projects aimed at increasing automation in production. At the innovation and training centre in Hamburg, training is also interlinked spatially and structurally with development. The thinking behind this is to harness the impetus from training for the company's overall progress.
The new workshops are a hit in the company, notwithstanding major contrasts
When production employees enter the new training workshops in Lünen and Hamburg, they often get a bit of a culture shock when using the spotless training facilities to simulate the contrasting reality of a metal smelting plant. The plant's pneumatic systems - some of them room-sized - are replaced with miniature versions on the small boards of the training systems. "Once we demonstrate that the main advantage of project-based learning with the training systems is its practical relevance to everyday working situations, the trainees' enthusiasm levels increase," Schmoldt explains. As for the Lünen site, Cederic Grube agrees: "Overall, we can say that the training workshop is a hit in the company". In the coming years, the first trainees will take t"
We're excited to see to what extent the modern methods will be reflected in future plant operations." says a hopeful Grube.he new knowledge they acquired in the workshops and apply it in production.