An international training centre for wind turbine maintenance
At its German training centre, Deutsche Windtechnik trains service engineers in wind turbine maintenance. The centre uses LabSoft as the central learning platform for training, retraining and advanced training.
Driving inland from Husum, you are surrounded by them: almost 800 wind turbines dominate the landscape of the German District of North Friesland. Their combined rated capacity is just under 2,000 megawatt. That figure is the same as the population of Viöl, a small municipality in the interior of Schleswig-Holstein, about twenty minutes' drive from Husum.
A small industrial area on the outskirts of town is home to the Deutsche Windtechnik Training Center. The maintenance specialists have been maintaining wind turbines all over the world since 2006. The northern German company's portfolio of services covers different manufacturers, includes on- and offshore installations and provides a full service from rotor blade inspection to foundation refurbishment. Deutsche Windtechnik currently has 1,500 employees, approximately half of whom are service engineers.
SYSTEMATIC TRAINING FOR THE SUCCESS OF THE COMPANY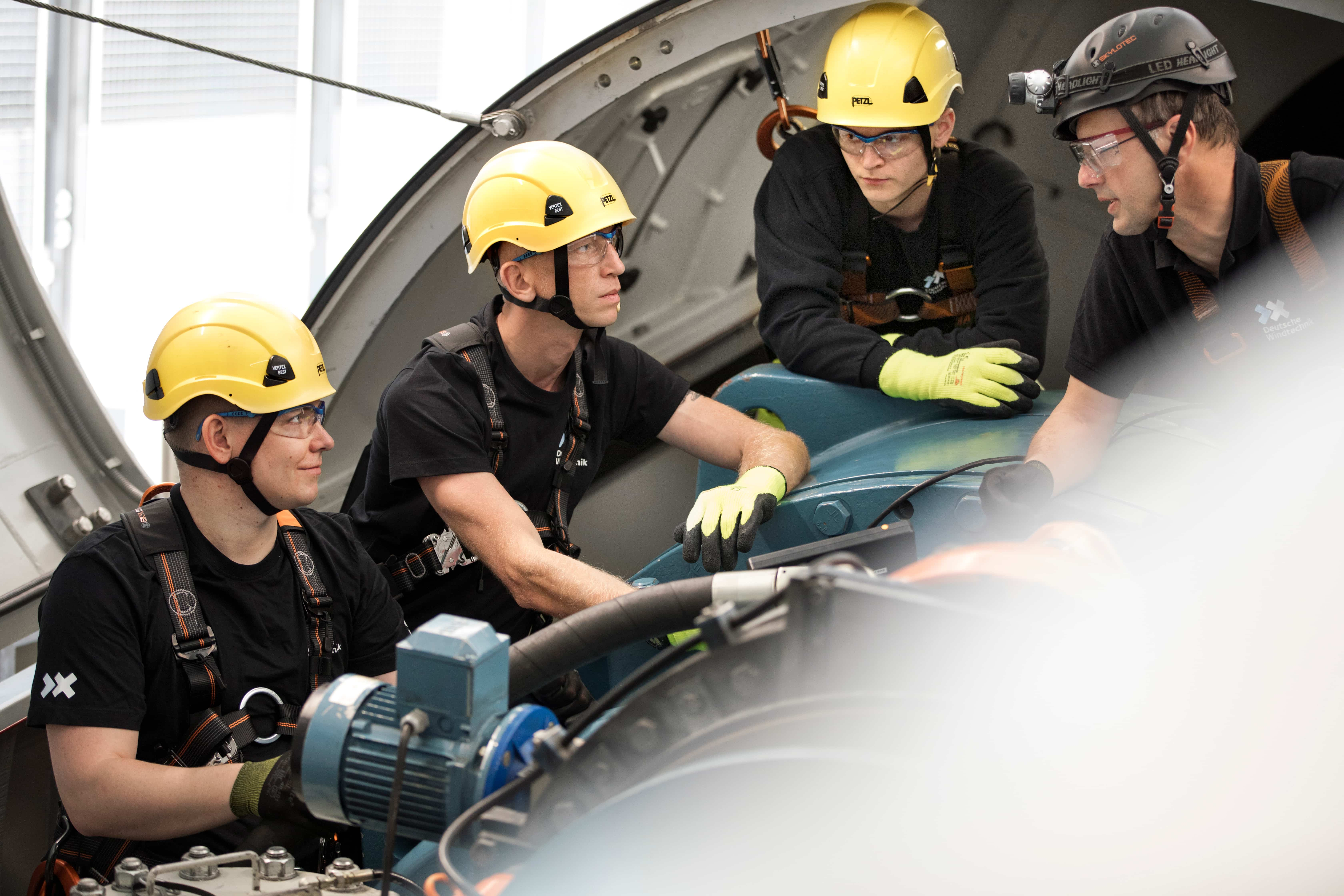 This personnel structure means that there is a huge need for training and development. On the one hand, such a large pool of engineers requires a constant supply of 'new blood', and on the other, the company's own quality and safety standards also make continuous training of the existing staff necessary. In order to meet this requirement effectively, Deutsche Windtechnik set about building up the Training Center in 2016, with the emphasis on installation engineering and work safety. At this point in time, there was a team of three trainers in Viöl. This number has now grown to 15.
One aspect of their job is to supervise and support the trainees during their first year of training as wind turbine mechatronics technicians. Out of 25 planned training vacancies per apprenticeship year, 15 have already been filled. Another aspect is the continual provision of retraining for career changers. For example, courses lasting up to six weeks enable agricultural machinery mechanics to gain a qualification in electrical engineering. Last but not least, Viöl is also a centre for regular work safety and safety at height training. In total, almost 400 people attended training here last year.
BASIC TRAINING AND PRACTICAL APPLICATION TAKE PLACE ALONGSIDE EACH OTHER
The North Frisian trainers rely on the UniTrain System for the provision of basic training in different areas of electrical engineering, in hydraulics, pneumatics and electrical drive technology. The compact experimental labs are used intensively in training as well as during retraining. Even those without basic technical knowledge are provided with instruction and training in electronics leading to a formal qualification. Groups of up to 12 people are divided into pairs for the training, with each pair working on a device, enabling them to learn together as well as from each other.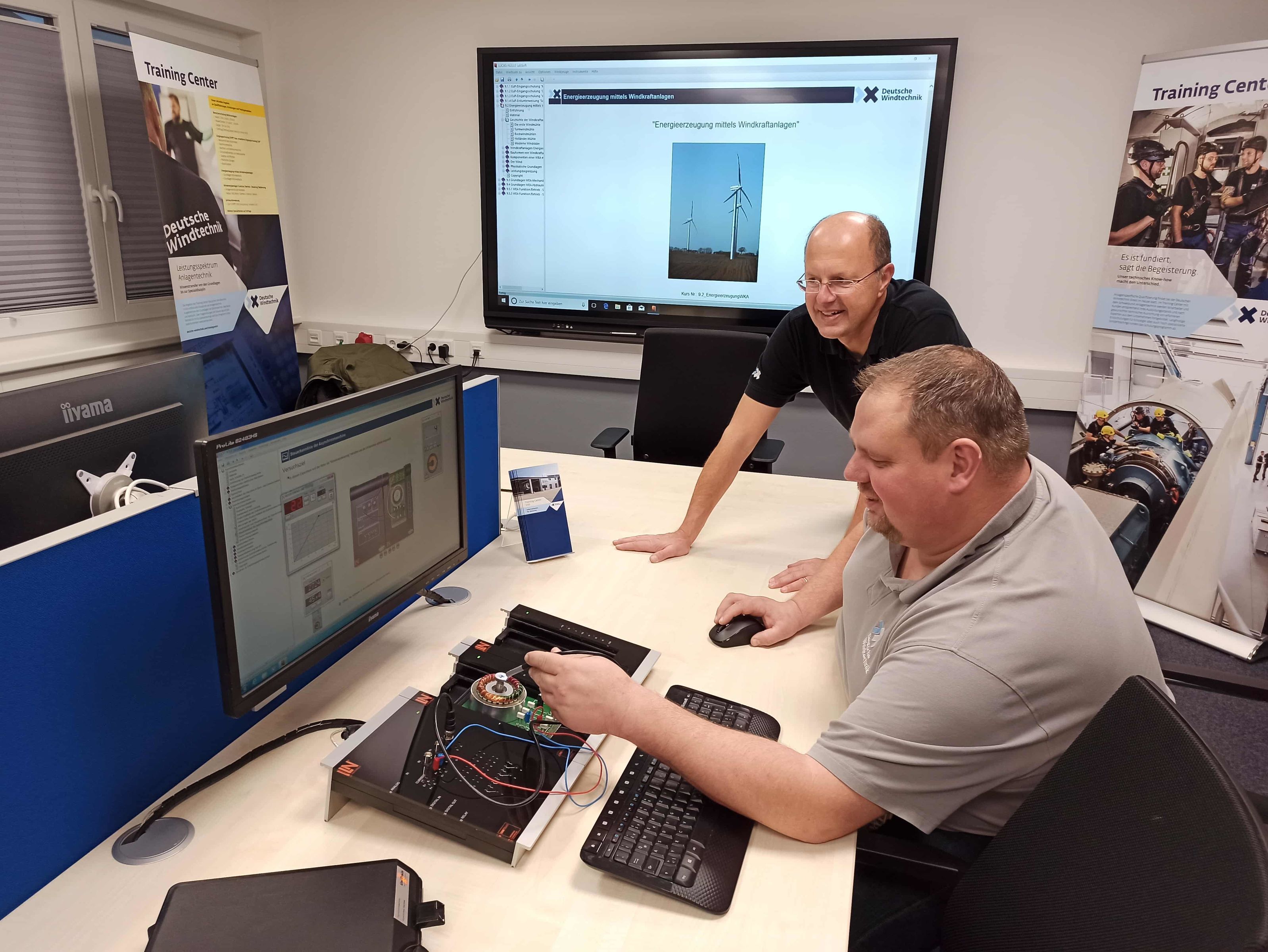 The heart of the Training Center is located right next to the rooms used for basic training. Two sheds housing original nacelles from different manufacturers provide trainees with an opportunity for direct practical application of what they have learned. "The differences between the individual manufacturers' systems are particularly marked when it comes to software," Jens Krippner, Senior Manager of the Training Center, explains. The trainers have created special learning units to demonstrate these differences.
CENTRAL PROGRAM FOR LEARNING CONTENT AND TESTING
All in all, the North Germans make intensive use of what the software package has to offer. "As well as writing our learning units, we also use the TestCreator to create all the tests," says Krippner. "Being able to use all the content in one place and in the same form is a great advantage." The example of Deutsche Windtechnik demonstrates the flexible possibilities of Lucas-Nülle training systems. In parallel to initial training, the systems are also used for further training and upskilling. What is more, the modular structure of the hardware and software lets you integrate your own content. This means that the systems can even be used for highly industry-specific training, with its success being evaluated through quickly created tests.
 

 




"The flexibility of the LabSoft Classroom Manager




gives us a wide range of possibilities."





Jens Krippner, Trainer