Africa's second largest hydroelectric plant
132 metres high: 2,067 megawatts Energy for 750,000 people
After driving for a while through the vast expanse of the Angolan countryside, you reach the Laúca Dam on the Kwanza River. The hydroelectric plant, partly completed in 2017, is 82 kilometres upstream from Dondo, the nearest bigger town. In spite of the fact that the plant is still under construction, its immense scale is already evident: the dam wall towers 132 metres over the valley. With an installed capacity of 2,067 megawatt s, Laúca is the second largest hydropower project on the African continent and will supply electrical energy for 750,000 people.

EFFECTIVE COOPERATION WITH ANDRITZ HYDRO GMBH
As one of the world's leading power plant technology manufacturers, Andritz Hydro GmbH undertook the installation of six Francis turbines at the dam. An important requirement for the Austrians – specified by regional environmental association GAMEK, which has been handed responsibility for the construction project by the Angolan Energy and Water Ministry (MINEA) – was to ensure structured training of the technicians and engineers who will operate the facility in the future. Andritz decided to work with Lucas-Nülle GmbH for this part of the project due to our global reputation in the field of power engineering training as well as our experience specifically in Angola.
RAPID IMPLEMENTATION THANKS TO AN EFFECTIVE TEAM
The project was implemented quickly and without any major obstacles. Following a successful discussion between Sales Director Stefan Welp and Andritz Hydro in the spring of 2016, the Power Lab – optimized for the Generation, Smart Grid and Microgrid topics – was installed in July 2017.

"Despite the at times adverse conditions, the team led by LN developer Andreas Scheuvens and installer Uwe Henschel did a great job of the installation in cooperation with our local partners," says Stefan Welp, praising everyone involved. "All in all, for a project to run as smoothly as this one is remarkable, and not something that can be taken for granted."
SUCCESSFUL TRAINING WITH COMMITTED PARTICIPANTS
Last October, LN trainer Fabian Schwarz eventually travelled to Angola to familiarize future instructors with the new systems. "I have seldom led training with such committed participants," says Schwarz, adding that "it was very effective despite the language barrier. The future instructors displayed ideal mutual support." He adds that all the installed LN power engineering systems are optimally tailored to on-site practical operations.
"Industrial use and training are virtually next door to each other in Laúca," says Fabian Schwarz. Other than that, it was the sheer scale of the dam project that stuck in his memory: "The volume of material that is being moved around there, far away from any town, is quite incredible."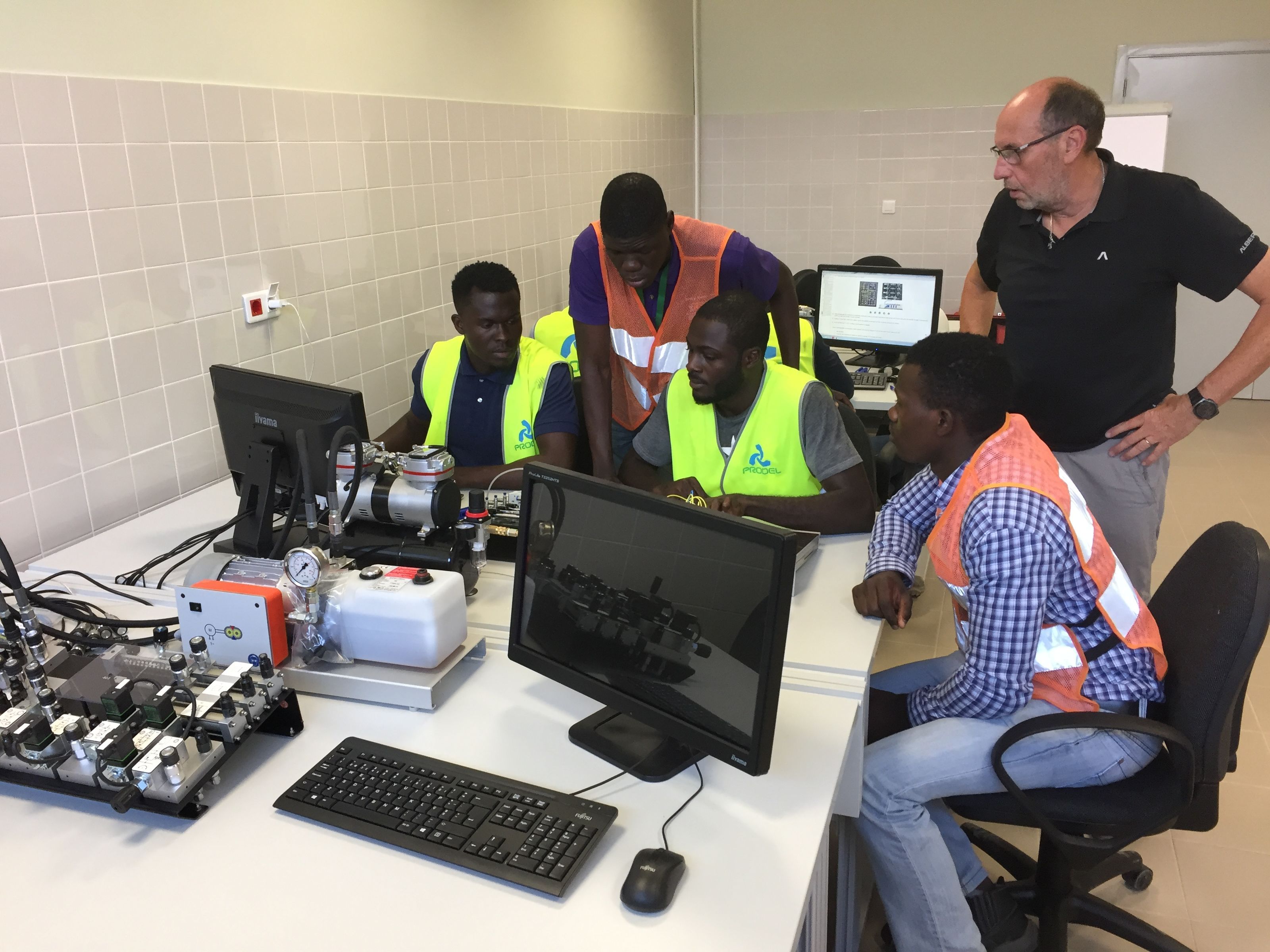 "Technology transfer must always be accompanied by know-how transfer. This is well understood at MINEA in Angola, and we did our bit with the quick and effective provision of state-of-the-art local learning opportunities."
Stefan Welp
Sales Director for Africa