Room planning software - pCon.planner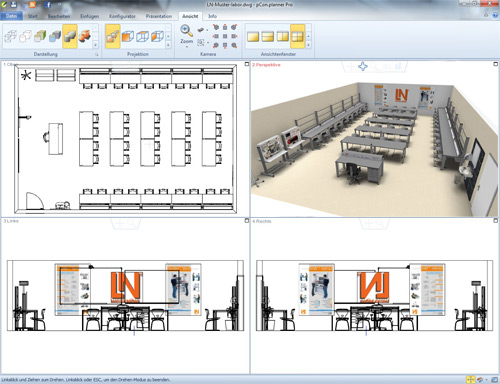 pCon.planner is a free software program for planning rooms and furnishings which is primarily distinguished by its multiplicity of tools and functions. It is easy and comfortable to use for laymen and experts alike. The user-friendly room planning program allows classrooms and laboratories to be designed with just a few clicks of the mouse. Multiple perspectives, from a bird's-eye view to a 3D representation, allow users to gain a realistic impression of rooms equipped with Lucas-Nülle lab furniture even at the planning stage.
The first step is to enter the dimensions of the room, as well as establishing the positions of windows, doors and electricity sockets at the very places they appear in the room to be furnished. Then you can place Lucas-Nülle lab systems and furniture wherever you want them. pCon.planner includes a comprehensive library of SybaLab furniture, making it possible to plan a lab with original Lucas-Nülle-Lab systems. In addition, extensive databases and a compatible Google 3D gallery provide a multitude of additional items with which the room can be equipped, including PCs, machines, lamps and even plants.
When setting up and moving items, the software rapidly alerts you when the objects get too close together, where the layout is impractical or even where important routes or electrical sockets are blocked.
One particularly impressive feature is the representation of new labs in photo-realistic displays or video animations. It is even possible to achieve real-time rendering. Naturally the results can be saved in a standardised "dwg" file format, specifically designed for planning purposes, so that architects can also hone the designs. This practical software is available in multiple languages.
The software can be downloaded free from the following site:
http://pcon-planner.com/en/download.html