An integrated approach to technology and methodology
We spoke with our Managing Director Andreas Hart about digital concepts
Hello Mr Hart, you have said that Lucas-Nülle is the go-to company for digitalization concepts in vocational education and training. What does Lucas-Nülle base this claim on?
Andreas Hart: "Many years of experience. Not only do we offer digital learning solutions based on state-of-the-art technology; we also support our customers by strengthening the teachers', trainers' and instructors' digital skills. And that applies to all technical occupations as well as all academic levels.
Our big advantage is that we have always seen ourselves as a specialist in educational and training concepts. It was 20 years ago that we launched UniTrain, the world's first digital experimentation platform for technical occupations on the education market, thereby blazing the trail in software-based methods of conveying basic knowledge.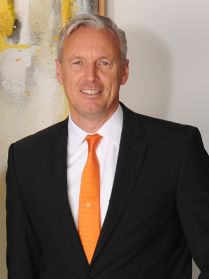 The system digitally integrated classic theoretical exercises and practically relevant experiments for the first time. Back then, most customers frankly didn't yet see any added value in software-supported courses for trainers and teachers or trainees and students. You could almost guarantee that you would be asked for the good old printed lab equipment manual of the 90s. But it was often while working with the new LN systems that our customers really became interested in the digital possibilities."
Can you say what the reason for this increasing acceptance was?
Andreas Hart: "In the first few years, many customers approached us with inquiries about further training. While working with the digital courses, they had come across functions and possibilities that sparked their interest. Our task then was to give the teachers, trainers and lecturers training in our digital solutions. The aim of this training was, and still is, to maximize the effectiveness of the digitalized training systems by using the appropriate methods. These inquiries and requests quickly led to the development of a training programme that now forms an essential part of the successful implementation of our projects, in any country.
Only in this way can we succeed in applying digital concepts effectively in the classroom or laboratory. Acceptance thus ultimately came via further training in digital topics."
And how have Lucas-Nülle's solutions evolved?
Andreas Hart: "The numerous discussions we had about our digital solutions during these training sessions served as an ideal opportunity for our further development. This learning process gave rise to two software solutions in the shape of the interactive LabSoft course programme - along with the LabSoft Classroom Manager - and the VOCANTO e-learning platform. Today, these tools give our customers the full range of digital training and learning possibilities for the classroom and laboratory. For years, Lucas-Nülle has used manuals only in exceptional cases where there is a good reason. We can now refer with pride to country-specific and very successful digitalization initiatives based on our educational and training ideas for technical occupations."
So if practice shows that digitalization, in principle, isn't rocket science, what are the reasons for some of the failings?
Andreas Hart: "This learning process, which we went through with many of our customers, was neglected for a long time overall. Especially Germany failed to pay enough attention to digital training of teachers, trainers and instructors in the public and private sectors. Digitally supported teaching simply requires these key people in the knowledge dissemination process to have additional skills, regardless of age. It has become a hot topic now. But even today, teacher training in this area is still making slow progress. On the other hand, our projects around the world show a tremendous willingness on the part of many institutions to embrace digitalization.
There's an easy explanation for this: When talking to our customers, the focus is always on the added value of digitally interconnected teaching of technology, in other words the question of the specific know-how that is being taught.
This leads to much higher acceptance because the need is recognized as such and, consequently, our solutions are implemented very quickly. In Germany, unfortunately, digitalization is all too often discussed as an end in itself. The question of "why" is given inadequate attention in too many cases."
So why do we need digitalization?
Andreas Hart: "I think the answer is obvious. Digital lessons offer far more opportunities to impart knowledge in an effective way. The aim of digitalization is to integrate and interconnect teaching in all phases of the learning process and in all its settings, thereby making it more effective. We therefore need to talk more about concrete ways in which to achieve this from a methodological point of view rather than about banalities such as W-LAN and WhatsApp."
More specifically, what skills does this require from teachers and trainers?
Andreas Hart: "The best way to answer that is with the feedback from customers: Working together, we start by improving the skills that are necessary to implement the use of digital technologies in the learning process. We therefore recommend starting with efficient train-the-trainer programmes straight after installation. This conceptional phase before the actual teaching begins is a key learning process for all the stakeholders. This applies to the education sector as a whole, from the education ministries to the school administration to the teachers and trainers on the ground.
Of course, our training also provides concrete skills for instructing, learning together and self-regulated learning. That brings us to the core competence of the teaching staff: lesson planning. In terms of content, that has to remain a matter for the individual teacher. But in terms of methodology, our systems provide them with a powerful set of digital tools."
What exactly about this is more than just old methodological wine in new bottles?
Andreas Hart: "The fundamental added value is the element of individuality. Digital methods are much more precise. This allows the teacher to shift the focus of the teaching process much more to the individual student's learning process. And, after all, giving each student the best possible learning experience ought to be the goal of any teacher or trainer. Let's take the classic example of technical vocational training: here the use of blended learning methods is particularly important. It is only by combining and integrating theoretical and practical measures in the laboratory that we can accommodate the aforementioned individual teaching and learning processes. One trainee may be lacking practical application-related knowledge while another needs to get a better understanding of basic theory.
The appropriate learning software allows this to be better understood. As a result, lessons can be controlled much more precisely in accordance with individual learning progress. But software and digitally interconnected training systems are essential for this. And it is precisely this combination that Lucas-Nülle offers as a complete solution."
Thank you very much for the interview. Do you have any final practical advice that you would like to offer our customers who are facing the aforementioned challenge?
Andreas Hart: "Of course, just get in touch with us. We recently proved that have the capability to put together a complete automotive training facility, from planning through to the first lesson, while at same time making sure that everything is state-of-the-art in terms of technology and methodology. But not only our automotive customers now increasingly regard themselves as winners. This also applies specifically to the current crisis, because remote learning does not rule out the use of the practical laboratories. They just have to be fully digitalized. At laboratory level, Lucas-Nülle has come through the distance learning stress test very well with its users worldwide. I think that speaks for itself."