Modern teaching is more than academic theory
At HAN University of Applied Sciences, power engineering students as well as employees of regional companies undergoing training now use the Smart Grid System from Lucas-Nülle.
In a private-public partnership, a laboratory facilitating a blended learning environment has been created in the Dutch city of Arnhem. The new systems are very popular with the students. Lecturers Patricia Boogard and Ballard Asare-Bediako explain why human capital is just as important here as innovation.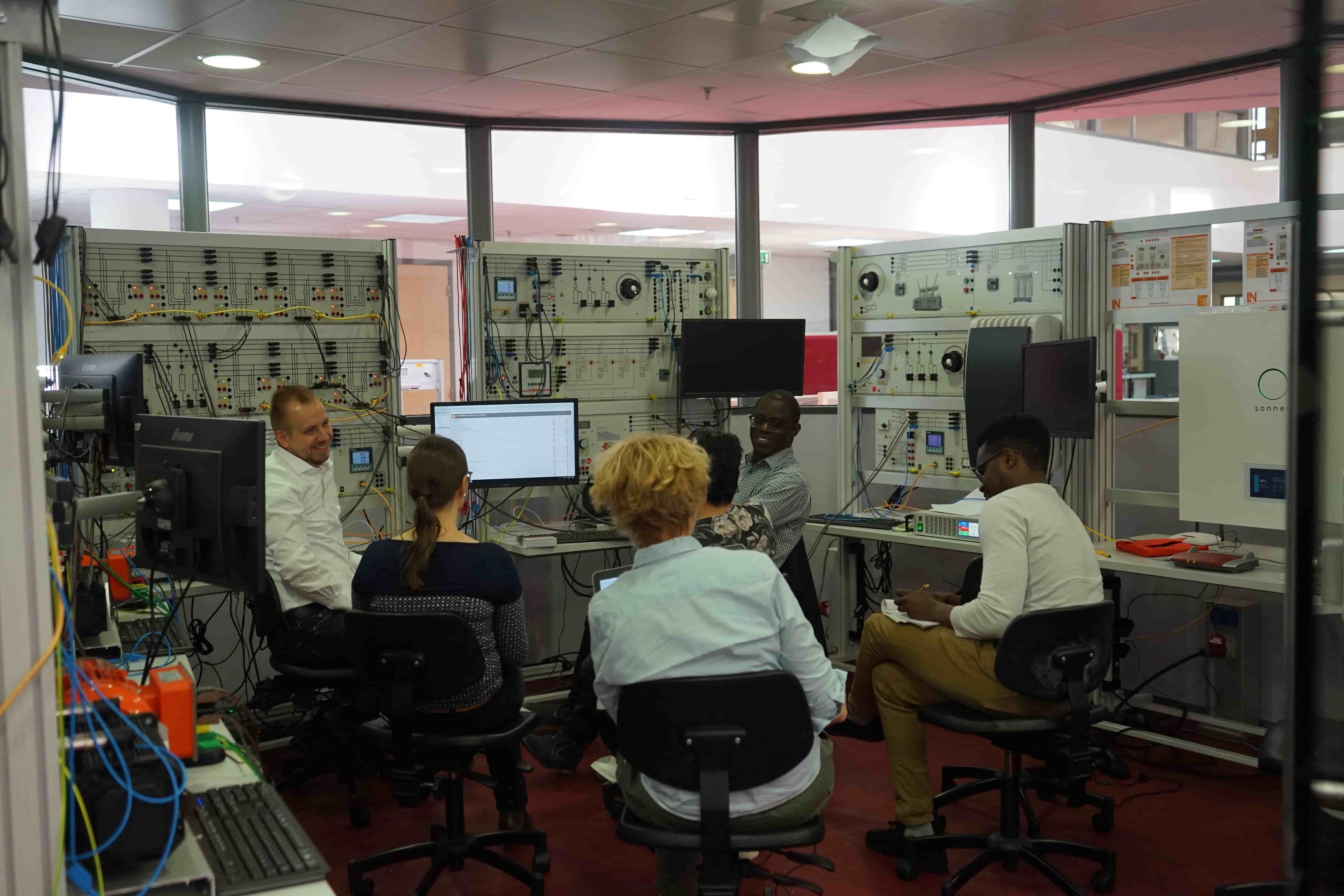 CONTINUING TRAINING IS A KEY ELEMENT OF THE ENERGY TRANSITION
"Teaching is so much more enjoyable when you know that the students like your seminars," says Patricia Boogard. She has been using Lucas-Nülle's Smart Grid System at the Faculty of Engineering for several months. "Our new equipment allows us to better illustrate the scientific material. That makes the theory more interesting for the students," she continues. Her colleague, Ballard Asare-Bediako, adds: "If you look at modern ways of teaching, you can see that it involves learning which goes beyond academic theory."
At the Sustainable Electrical Energy Centre of Expertise (SEECE), the two scientists are considering the question of how to achieve a stable network infrastructure in a sustainable energy economy. The centre is based on a private-public partnership that not only focuses on innovations but also sees continuing training as a second important component of the energy transition. The SEECE therefore also offers courses for employees of regional industrial companies who wish to broaden their knowledge of the new power engineering topics. Blended learning as a recipe for success: Universities are also seeing an increase in practice-based training.
HIGHER PROPORTION OF BLENDED LEARNING IN BACHELOR'S DEGREE COURSES AND IN TRAINING AND DEVELOPMENT
The institute has been using simulation software developed in-house to simulate complex electrical network infrastructures for a number of years. However, use of the simulations showed that an abstract approach to the subject based purely on software doesn't work for all stakeholder groups. "In training and development as well as in bachelor's degree courses, many participants only get a feeling for a subject when they can physically connect cables rather than just draw a line on a screen with the click of a mouse," Asare-Bediako explains.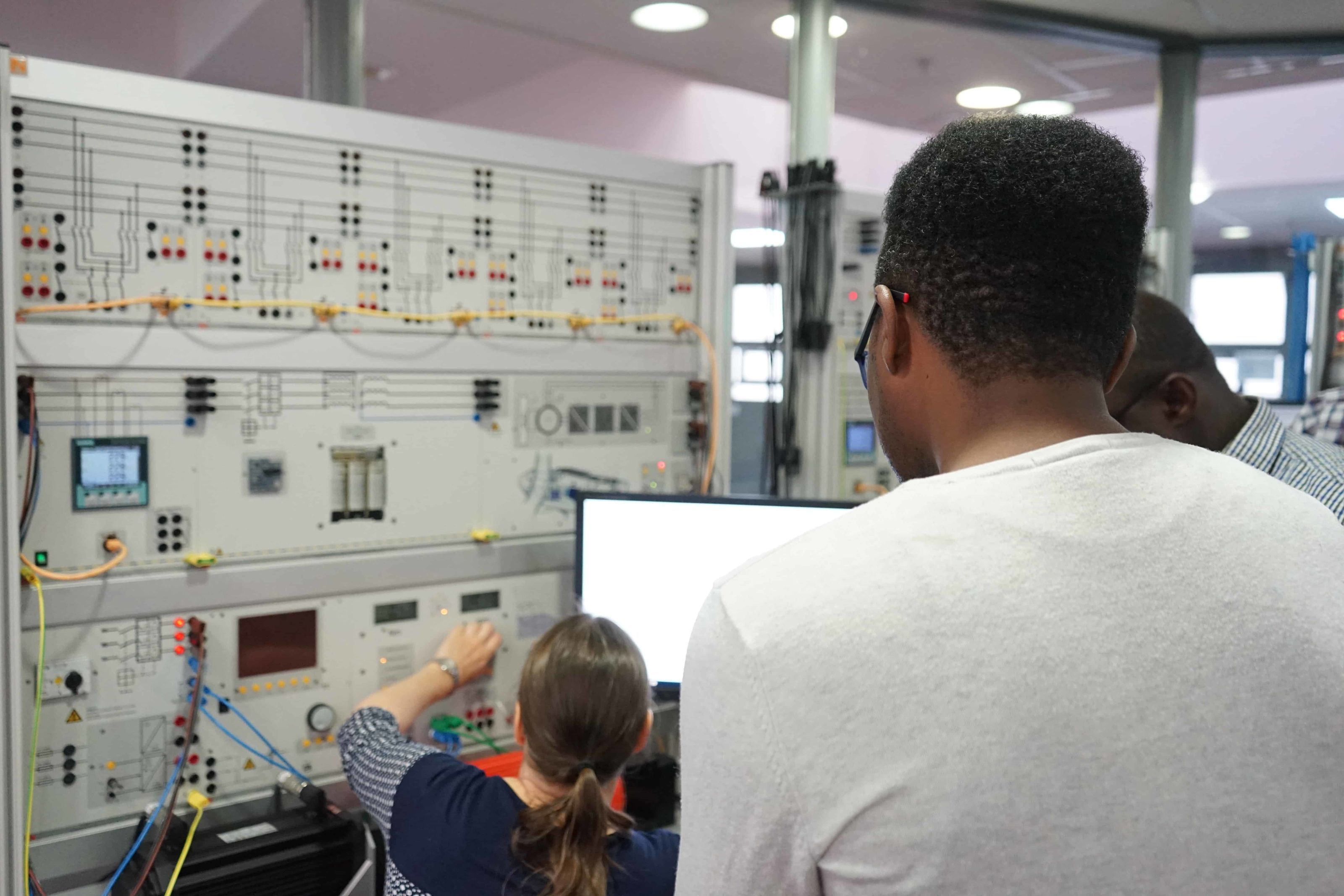 "We take the 'Applied' in our university's name seriously," the senior lecturer emphasizes. That is why the SEECE started looking for more practical systems that facilitate a blended learning environment in the field of power engineering. In particular, they wanted the new equipment to be able to visualize the actual effects of modified parameters in the smart grid.
FLEXIBILITY OF SYSTEMS SPAWNS PROJECT IDEAS - STUDENTS ENTHUSIASTIC TOO
A total of five large training boards have now been installed in the new technical building in Arnhem. The students and trainees can use the systems to work with photovoltaics and wind energy. On the other hand, they can simultaneously model the storage of electrical energy or its transmission through the power grid. In short, the laboratory is a complete, physically simulated smart grid that is also connected to a safety system and numerous transformers.
"The safety of the system was one of the main reasons for choosing Lucas-Nülle technology.," Asare-Bediako explains. "It goes without saying that we cannot allow students to be exposed to danger in the laboratory," he adds. The second decisive reason was the systems' flexibility, offering a host of expansion options. "We want to use this for numerous scientific projects," the lecturer explains, adding: "We are only at the beginning and already have lots of plans. These include connecting equipment developed in-house and producing our own content." The initial feedback from trainees and students has certainly been very encouraging. "They are saying that the teaching material is different from what they were using before," says Asare-Bediako. "They are excited to see that the theories they devise actually work in practice."
 

"Many course participants only get a feeling for a subject


when they can physically connect cables rather than just




draw a line on a screen a the click of a mouse"



Ballard Asare-Bediako