Lidar technology for training
When vehicles are aware of their surroundings
Assistance systems such as parking aids or traffic sign recognition are now standard for a growing number of drivers. Meanwhile, most worldwide car manufacturers are planning to make more and more driver assistance features a condition of awarding the highest safety rating. This will see demand increase, components becoming cheaper and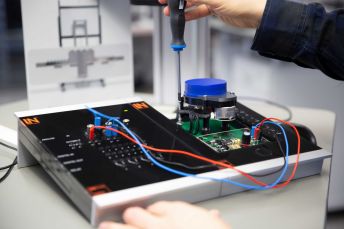 systems cascading from premium-class to mass-market models. The same applies to Lidar technology (Light Detection and Ranging). The optical measuring technique facilitates complex recognition of persons and objects in the space surrounding a vehicle. With Lucas-Nuelle you can now simply integrate this technology into your training.
This didactic driver assistance system's hardware uses our UniTrain interface and is based on a real Lidar module. The system is revealed to a great extent, providing trainees with unique insights into its structure and function. In combination with the corresponding e-learning course, it allows the operating principle and, above all, diagnosis to be taught quickly and efficiently. The trainees independently activate various fault scenarios via the course. The accompanying calibration table also allows trainees to be familiarized with the Lidar adjustment process, thus creating the ideal basis for practical application in the workshop.
The e-learning course also introduces trainees to the basic physics of light and lasers and how signal processing and environment detection work. There is a separate learning unit devoted to Lidar technology's role in the process leading towards autonomous driving.