Live access via the Control-Center
The LabSoft Classroom Manager now also lets you manage lessons in real time. Free download for existing customers.
The management of your learning group via the LabSoft Classroom Manager has a new feature. The "ControlCenter" function grants you direct access to the screens in the classroom. This lets you see directly where the course participants are having difficulty, or you can easily present the positive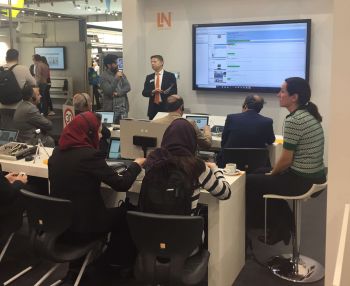 results of individual participants to the entire class. Ultimate control of the screen remains with the participants, who can deny access whenever they wish.
Numerous other functions
The ControlCenter rounds off the Classroom Manager's range of functions. The program allows teachers to manage users and groups and a lot more besides. The Editor makes it possible for you to edit learning units, and you can use the Questioner to create questions and measurement tasks that can later be used for tests by means of the TestCreator. The TableEdit program is a simple tool for creating tables and diagrams to record measurements in LabSoft. Then there is also the Reporter, which makes it possible to see the learning progress of individual users and whole groups.
Free for users of the Classroom Manager
We showcased the new tool at didacta in Cologne. "The feedback from visitors confirmed for us that our ControlCenter will open up a whole new facet of teaching with LabSoft," says Product Manager Jörg Sprengepiel. Customers who are already using the Classroom Manager will be able to download the new function free of charge from the Lucas-Nülle website.