The third-generation Servo-Machine Testing System
New functions make the tried and tested "servo brake" even better.
Lucas-Nülle has now given an all-rounder and classic product an update: The Servo-machine testing System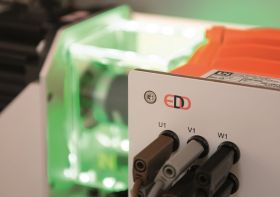 In an age of rapid technical innovati on, 20 years sounds like an eternity, but that is how long the servo-machine test stand has been providing reliable service. It was put on the market as the servo driving and braking system in 1998. Also known as the servo brake, this all-rounder is now used in more than 50 Lucas-Nülle training systems. But even a running system can sometimes be optimized. Product Manager Ralf Linnertz has done just that. The third generation, called the servo-machine testing system, is now available together with an ActiveServo software update. Besides enhanced functions, the new system's most impressive feature is its even greater level of safety.
The specific advantages:
SAFE:
The comprehensive safety concept extends to all shaft covers. It features improved hand protection thanks to flush-closing covers. Integrated lights indicate that setup has been carried out correctly. Another important feature is that the supply voltage of the machines under test is disconnected as soon as a shaft cover is removed.
DIGITALIZED:
The motors will from now on be fitted with an electronic rating plate. Relevant machine data is thus automatically transferred and scaling is preset in the ActiveServo program. This ensures that users get to the relevant learning content more quickly.
USER-FRIENDLY:
A 5.7-inch colour touch display simplifies operation and provides a clear display of the readings. The innovative cooling system and modified servo control make the machine testing system much quieter.
FLEXIBLE SOFTWARE SOLUTION:
The new version of the software facilitates improved operation. It is also available for the previous system. In addition, a built-in Soft PLC for SCADA is already being developed. This will further simplify handling.
100 PER CENT COMPATIBLE:
Planning certainty for existing training systems: the third generation of the servo-machine testing system remains compatible with the entire range of Lucas-Nülle machines.