Train the Trainer: How Daimler is Realising E-Mobility Training
The topic electric and hybrid vehicle is trained with Lucas-Nülle training systems at Daimler in Germany.
At the vocational school of Bad Dürkheim we recently presented new features of our electric and hybrid vehicle training systems to Daimler's trainers for vocational training.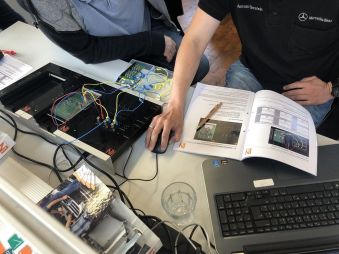 Lucas-Nülle training systems are not only the most effective but also the safest way of training hybrid and electric vehicles. That's why LN equipment is used throughout the German workshops of Daimler. Consequently, also the nearby schools within the German dual vocational system have choosen LN automotive technology to provide repair and service skills to young professionals. Subsequently, Lucas-Nülle has organized a two-day training course for Daimler's vocational trainers and for automotive teachers. In the city of Bad Dürkheim the instructors became acquaintant with new features of the electric and hybrid vehicle training systems.

The vocational school in Bad Dürkheim provided its comprehensively equipped automotive laboratory for this purpose. Since 2015, Lucas-Nülle is regularly using the laboratories in Bad Dürkheim for this kind of training. Frank Knöll is teaching automotive technology in Bad Dürkheim and says: "We have had good experience with the equipment. That's why we are happy to support other vocational schools and trainers in discovering the systems."

Lucas-Nülle is constantly offering train the trainer sessions on new topics and systems or even on how to use complete laboratories. Bernd Bongartz, automotive trainer for Lucas-Nülle, explains the concept: "We enable the trainers to make guided experiments and thus provoke questions. This assures that training centres get the most out of the systems and no questions remain unanswered in the classroom."