IPT 31 Extraction and Rectification
IPT 31 Extraction and Rectification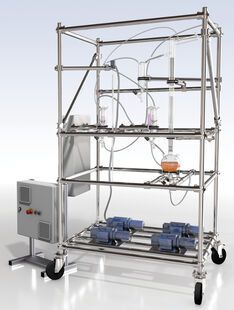 IPT 31 Extraction and Rectification
The process trainer IPT 31 Extraction and rectification combines the two processes of rectification and extraction in a miniplant unit. Using very small quantities in the processing system reduces the risk in the handling of hazardous substances.
With its compact dimensions, this processing system can be used as an alternative to the process trainers IPT 11 Rectification und IPT 21 Mixer-settler to teach the fundamentals of what are two essential processes in the process engineering industry.
The use of high-quality, industrial borosilicate glass 3.3 makes it possible to see and follow the entire process. The interactive e-learning course also helps trainees gain a deeper understanding of what they have learned.
The LN process engineering training system IPT 31 Extraction and rectification is supplied with a complete, fully programmed industrial process control system. It is possible to connect multiple trainers with a single process control system. Lucas-Nülle will find a custom solution to your process engineering laboratory needs. Simply make contact with us about it.
Education objectives:
Principles of Miniplant Units
Principles of the solvent extraction