RCC 33.1 Heat pump trainer water-air
RCC 33.1 Heat pump trainer water-air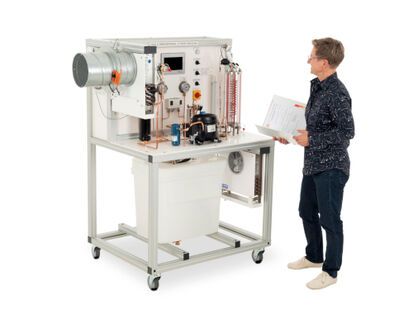 RCC 33.1 Heat pump trainer water-air
A heat pump is capable of using ambient air as a heat source. This works even at colder outdoor temperatures of up to -20 °C (depending on the refrigerant used, 20 °C = 68 °F). This is because the refrigerant evaporates even at low temperatures. This evaporation in the outdoor unit is mandatory for the heat pump to function.
If a heat pump is used for heating, its great advantage is that no fossil fuels such as oil or natural gas are consumed, but the energy is obtained from a natural energy source. If a heat pump is powered by electricity generated from renewable sources, it can be operated in a practically CO2-neutral manner. As a result, heat pumps are becoming increasingly important these days.
The RCC 33.1 heat pump trainer water-air from Lucas-Nuelle illustrates the principle and mode of operation in an understandable and practical way.