IPT 21 Mixer-Settler 2-stage Extraction
IPT 21 Mixer-Settler 2-stage Extraction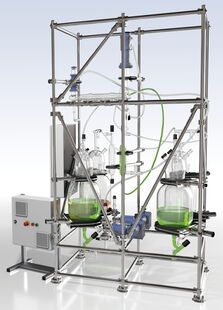 IPT 21 Mixer-Settler 2-stage Extraction
If the separation of a product from a mixture by distillation is too complex or indeed entirely impossible, then extractive separation might be an economic alternative. In this case, the desired substance is dissolved out of the mixture using an extract. Then the product can be distilled out of the extract.
The process trainer IPT 21 Mixer-settler demonstrates this procedure, even allowing the separation by change of phase to be observed directly. The system is universally chemical stable.
The glass training system has two stages operating countercurrently. Both phases are fed into the appropriate stages using dosing pumps and mixed by means of agitators. The extractions products are collected in two separate receiver vessels.
The process trainer IPT 21 Mixer-settler is supplied with a complete, fully programmed industrial process control system. It is possible to connect multiple training systems with a single process control system. Lucas-Nülle will find a custom solution to your process engineering laboratory needs. Simply make contact with us about it.
Education objectives:
Principle of ideal mixing stage
Principle of reverse flow extraction
Influence on efficiency of:

Stirrer speed frequency
Density difference
Throughput