CFA1 IMS Factory App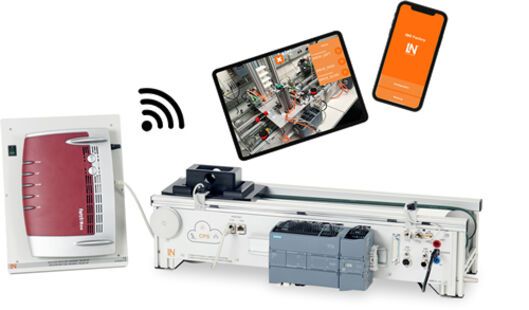 CFA1 IMS Factory App
In times of Industry 4.0 and the ever advancing development of technology, modernization in the area of maintenance is indispensable. Not only the observation of the operation of the production, but also the manual intervention and control of a process must be possible by new technologies. Maintenance modules that have to be connected via cable or only provide PDF instructions on the screen were state-of-the-art technology in Industry 3.0.
Operating and monitoring via lists can quickly become confusing in a process with many signals. The local assignment of the signals to the sensors in the machine can therefore be time-consuming. Therefore a wireless connection of the maintenance module to the machine and a display of the signals in an augmented reality environment has many advantages. With Augmented Reality, the control signals are displayed in the image displayed on the screen by the camera at the same location as they are in the machine. This allows signal states or error messages to be quickly assigned and localized. This results in shorter downtimes.
The definition and positioning of the signals is individual and can be freely defined by anyone. Likewise, the composition of the machines in production can be freely configured. The Augmented Reality App establishes a connection to the machine via WiFi. Communication then takes place via the defined IP addresses.