RCW 11 Design and assembly of refrigeration applications
RCW 11 Design and assembly of refrigeration applications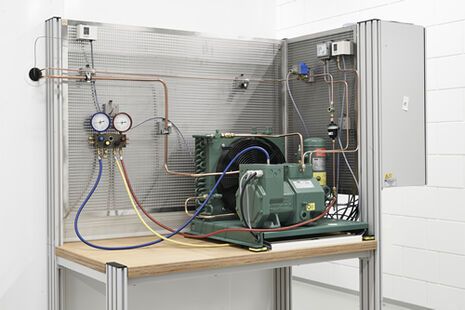 RCW 11 Design and assembly of refrigeration applications
Equipment set RCW 11 for the refrigeration workshop allows you to teach the most important and most common applications of refrigeration technology. Thanks to the extensive equipment set, the refrigeration workshop is also suitable for teaching fundamentals of the piping system. The extensive electrical circuitry covers the broadest of application areas.
Knowledge including the following can be taught as part of fundamental practical training:
Installing and planning technically correct piping for a refrigeration system using copper pipes (bending, flanging, making to measure)
Installing electrical wiring for a refrigeration system and handling electric current
Handling refrigerant, filling, disposal and safety
Start-up, checking for leaks, leak testing and maintenance
Disassembly or shut-down
The following projects can be completed using the basic set:
Vegetable cooling cabinet
Freezer compartment
Shock freezer
Fridge compartment with power controlled by hot-gas by-pass
Refrigeration system with starting controller
Refrigeration system with winter mode
2 Fridge compartments at different temperatures via evaporator pressure regulating valve
These topics incorporate the following skills:
Set-up and dismantling of piping and piping components
Pressure testing, pressure strength testing, electrical tests
Calibration of pressure switches
Start-up, checking for leaks, leak testing
Designing control systems
Calibration of pressure switches
Filling with refrigerant
Siphoning of refrigerant to suitable disposal containers
Execution of repairs, e.g. replacing components, changing oil, etc.