CIM 11 Lathe machine production line with 3 stations
CIM 11 Lathe machine production line with 3 stations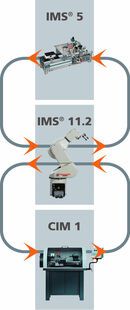 CIM 11 Lathe machine production line with 3 stations
The system can be used to manufacture the bolt used for the mechatronic system. CIM 11 consists of the stations processing, workpiece transfer with robot and lathe. The stations can be used individually or combined into a single system. For the transport of workpieces to the station a conveyor belt system on dual conveyor belts is used to transport the workpiece carrier. A robot is used for the transfer of the workpieces from the lathe to the IMS station.
With this training system industrial processes involving complex manufacturing can be realistically simulated. The manufacture of the workpiece, subsequent transfer and processing into the end product are performed fully automatically. There is no more intervention necessary in the machining process. Industrial-type PLC systems with Profibus and decentralised periphery are also used for the control of the production line. The system promotes skills learning while working within a team and empowers the students to acquire on their own the basics needed to master machining and mechatronic systems.
Each station is designed so that starting with simple automation and machining operations and sequences the student proceeds step by step to acquire the skills and know-how needed to create a complex automation program. The standardised interfaces permit the use of different industrial PLC control units.
Transport system: dual conveyor belt transport system with DC drive motors and speed-variable three-phase drive motor.

Identsystem: vision sensor can be used optionally to check whether workpiece has been finished correctly

IMS 5 Processing station

IMS 11.2 Robot

CIM 1 Lathe