TVP 2 VoIP-ISDN-POTS trainer PRO Monolyth
TVP 2 VoIP-ISDN-POTS trainer PRO Monolyth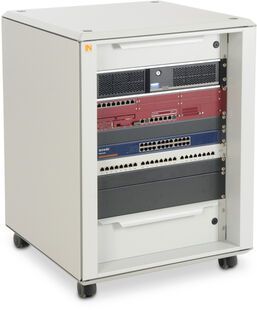 TVP 2 VoIP-ISDN-POTS trainer PRO Monolyth
This modular training system allows a perfect integration of telecommunications technology into education labs. Up to 20 groups (virtual VoIP telecommunication PBX) can conduct their projects simultaneously using the system. The basic equipment consists of a 19" VoIP server and a 19" PBX. If required, a Fast Ethernet switch and patch panels can be ordered to connect the internal lab telecommunications network. Conventional patch cables can be flexibly routed to achieve structured cabling for analog and digital laboratory communication. Two different approaches are possible: Setting up a VoIP private branch exchange with just an Ethernet infrastructure, or continued use of an existing ISDN or POTS infrastructure with smooth migration to VoIP technology.
Scalable 19" server with 64-bit operating system and advanced virtualization software.

Simultaneous operation of up to 20 virtual, software-based private branch exchanges.

Conventional VoIP-ISDN-POTS PBX in a 19" rack format.

Connection and commutation technology for autonomous operation and seamless integration into existent networks.
The following projects can be implemented with this equipment:
Customer order: Planning and establishment of enterprise infrastructure.
Commissioning of a VoIP PBX.

Installation and configuration of additional modules: Answering machine, IVR, CLIP, CLIR, Music-on-Hold, conference etc.

Installation and configuration of VoIP terminal devices.

Handover and briefing.
Customer order: Planning and setup of a VoIP PBX for several decentral locations.

Assembly project: Installation of a network comprising several private branch exchanges.

Customer order: Commissioning of a conventional PBX.
Configuration of an ISDN network with up to 32 subscribers.

Configuration of an analog network with up to 16 subscribers.
5. Customer order: Migration from analog and ISDN telephony to VoIP.