Diagnosis and repair of a high-voltage battery in a commercial vehicle
Diagnosis and repair of a high-voltage battery in a commercial vehicle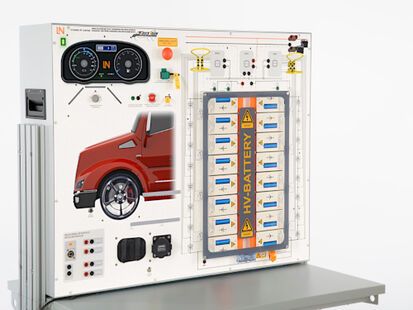 Diagnosis and repair of a high-voltage battery in a commercial vehicle
The continuous development of electric mobility also presents new challenges for the commercial vehicle industry. The HV battery in particular represents a special challenge.
This circumstance has now also been taken into account in the training regulations all over world, which have taken up the topic of "hybrid and electric vehicles" in connection with commercial vehicles. This is done by various curriculums from the IMI from the UK or even in Germany . In order to be able to optimally prepare the apprentices and trainees for this challenge in the field of commercial vehicles, a training system was developed which was specially adapted to the new target group.
The training system focuses on the digitally networked CAN bus battery management system in the traction battery and the associated components.