CAC 2 Control of the Conveyor Belt via the Microcontroller
CAC 2 Control of the Conveyor Belt via the Microcontroller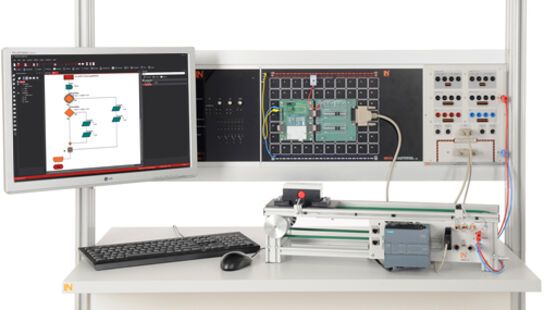 CAC 2 Control of the Conveyor Belt via the Microcontroller
Fundamentals of the "Cyber-physical system"
The smart factory (Industry 4.0) is based on the interaction between actuators and sensors, their integration in the Internet and the processing of all relevant information in a CPS platform. With the aid of the CPS trainer, the technicians of tomorrow can learn how to expand microcontroller systems into a cyber-physical system, and how to program this and use interfaces with the cloud to connect up the CPS platform.
Naturally, the CPS trainer can also be integrated as part of a smart factory system (Industry 4.0).
Your benefits:
Connect the "smart" (microcontroller) with the "mechatronics" (conveyor belt) and sensors
Process analog and digital input and output signals
Do programming with the graphic programming language FlowCode
Can be integrated into a smart factory
Integration with Ethernet possible thanks to optional network module